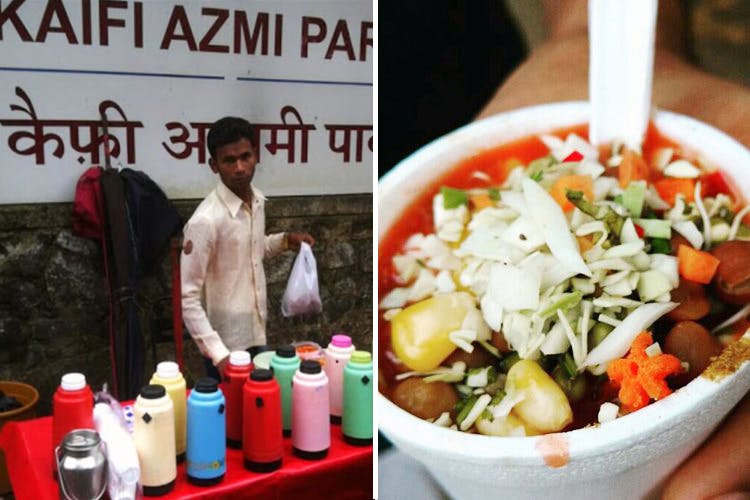 This Amazing Street Stall In Juhu Serves Up Healthy Soups & Salads For Only INR 100
Shortcut
We found the healthiest street stall in Juhu that serves the most delicious soups and salads. These area ideal for all the fitness freaks out there who'd still like to relish some roadside munchies.
Say Whaaat?
This small street seller outside Kaifi Azmi Park is an overexcited genie for the calorie conscious, what with all your wishes packed in his colourful flasks of at least 30 healthy chilled soups, 10 delicious hot soups and around 40 varieties of different combinations of salads that are enough to make your weight-conscious heart skip a beat!
Name any fruit or vegetable and they have a soup! Pomegranate, plum, sweet lime, orange, apple, mix fruits, tomato, cucumber, drumstick, bottle gourd, tulsi, mint leaves- all these are chilled soups, as well as our favourite manchow soup, corn clear soup, sizzling with the best hot flavours- each for just INR 40. And those salads are simply divine! You have varieties like the sprouts- moong, gram, pulses combined with paneer, boiled pasta, corn, broccoli, soya sticks, etc. to make an overall healthy delicious salad just for INR 60, with a complementary hot delicious soup with each salad! We had the paneer corn sprouts salad with manchow soup and it was delicious! We also tried the clear corn soup with pasta salad, and it was equally tasty. The plum carrot juice was totally worth it's cost
This stall is just what you need to satiate your hunger after a jog of 60 minutes without feeling the guilt! Also, all of it just for less than INR 200 for two people. The stall opens in the evenings and serves these delicacies till 10pm every day.
So, We're Saying...
Located at an easily accessible spot, go to this amazing stall for the most satisfying, delicious and healthy roadside food you will ever find. Also, it helps that it's so cheap.
Comments