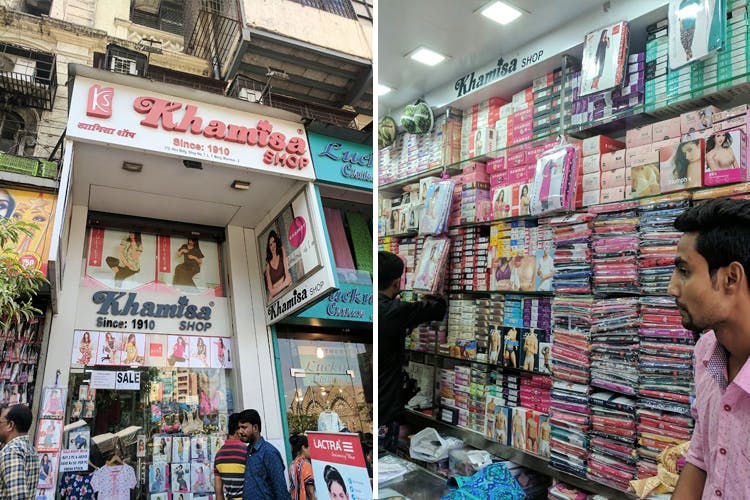 Mumbai's Oldest Lingerie Store Is 108-Years-Old & Here's Why It's Still Popular
Shortcut
As you walk down Crawford Market, you walk past a store that's been around for 108 years now. A store that has seen decades of fashion styles and statements gone by and has still stood the test of time.
What Makes It Awesome
Opened in 1910 as a 'women's delicates store' (as it's referenced to) stocking corsets, petticoats, stockings, bullet-shaped bras and all that was popular in that era, Khamisa turned into a lingerie-only store in the 1950s. All this while, you'll find a set of loyalists that visit them from far and near, still remembering the days when their mothers and grandmothers would walk in with them to pick daily necessities.

Now stocked with imported and popular lingerie brands like Lovable, Jockey, Enamour, Triumph and Amante, Khamisa has been transformed to resemble a new age store with glass counters and air conditioning. What's also interesting is that it's a store run by men and you'll find lots of women here who have been visiting the place for years now, and are not shy to ask for whatever they need (I walked in wanting to purchase a bra and honestly, didn't find it weird at all to discuss the size and shape I needed).
When we spoke to them, they told us that their stock is fresh. Upon asking them what this means, they elaborated saying, "We rotate our stock in case something is lying around for too long. We send the old pieces back to the companies, so everyone is happy." They also pride themselves in having a range of plain granny bras to some of the latest designs, knowing full well that there's an audience for all types that visit them.
Pro-Tip
While many of us have found new ways to purchase lingerie (online or otherwise), a lot of us still have our old favourites that we've been visiting for years and are comfortable around. Khamisa is one such brand that is willing to go that extra mile to help you get the best fit and the garment of your choice. For this, its legacy still stands strong.
The staff is friendly and takes time out to help you figure out what's best for you. So, in case you're after a particular brand, they can try to help you find it.

Comments