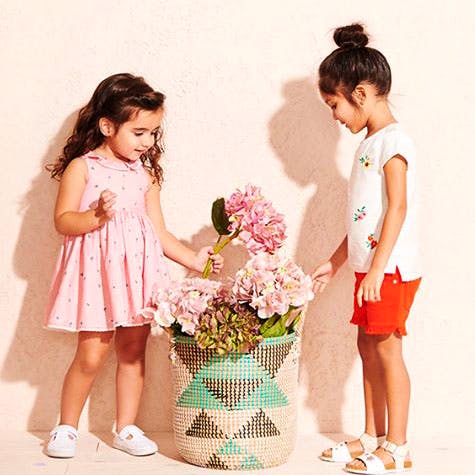 Keep Your Lil' One Fashionably Forward By Shopping From These Premium Brands In Goregaon's Oberoi Mall
Gone are the days when dolling up your child was all about the banal frocks and shirt-pant sets (with a tiny handkerchief pinned to their tee) We're living in a era where mums like to match their outfits with their kids, or vice versa. Parents really are taking efforts to buy the best for their babies, from the best of brands. And Oberoi Mall in Goregaon has quite a few premium brands that you can trust. They're all forward in style, and your tiny-tot will love it too.
GAP for kids
Unicorn tees, shiny metallic lace-up boots, cutesy socks, toddler peplum tops, tiny bows, and much more. We bet your kid's going to make you stay longer at this GAP outlet inside the mall (for all the right reasons though) Make sure you invest on their graphic sweatshirts too.
United Colors Of Benetton (For Kids)
We particularly love the trench coats here. Though the city's weather doesn't demand for its need, buy it and keep for times when you travel to a cooler place in the country or abroad. Also, UCB has alot of options for babies between 2 to 4 years of age. You will get polo shirts, linen shirts, bodysuits, and much more.
Mothercare
Mothercare is an umbrella of a variety of babycare things. From babysuits and pretty frilly frocks to swimwear, and even activewear, they've got it all. The best part is that they've got toys, bedding and even gifting options for children for all age groups.
Hamley's
While we know you'll wonder why a toy store's mentioned in this list, let us tell you that we have ample reasons to. Every kid's dreamland, we couldn't help but add this here. Hamley's is apt for those days when your kiddo's all cranky and demands that you take him/her out. Toy trains, fluffy soft toys, board games, puzzles, and much more, it evokes our inner child too. Get the best of toys for your baby from here.
Comments