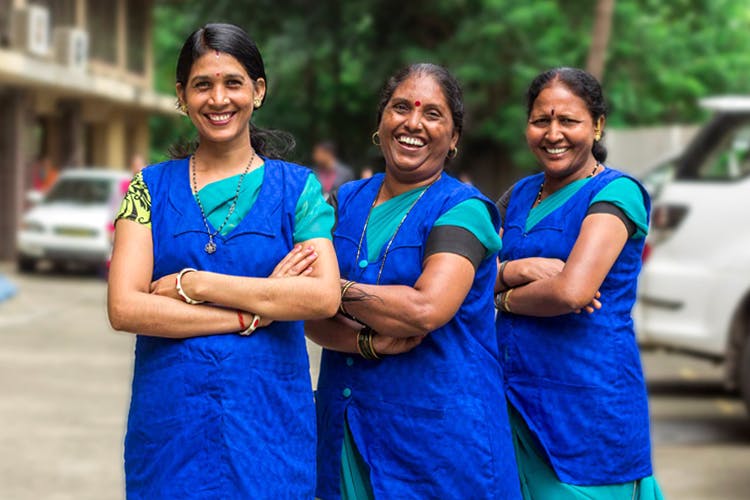 4 Reliable Agencies That Will Find You A Maid Faster Than Your Neighbourhood Aunty
Shortcut
We all have days when things go haywire and our maids don't turn up. I mean, think about it, some of us are left clueless, not knowing where to begin and the tasks seem too daunting to even start with.
While word-of-mouth is also an option, it usually takes some time to be able to find someone who fits the bill for you. That's why we've compiled a list of reliable agencies where you can get a maid to come home and help with all your chores, for all those 'special' days. Things looking up now?
Kamwali Bai
With over 12 years of offering maids and domestic help services that include a wide range of jobs – housemaids, cooks, caretakers, ayahs, nurses, babysitters, elderly care and much more, this agency promises to 'change your life' with their services. On the topic of housekeeping services, the list encompasses laundry services, pantry services, and other household related services. You have the option to pick a specialized service or the regular home maid service, and you can pick your own timings.
You can pick plans for eight hours, 10 hours and 24 hours that are priced accordingly. You will have to provide your own cleaning materials as well.
Make sure you call them up to discuss your package and how much it costs as per your need. You can reach them on +919819221144. They offer cleaning services in Mumbai, Navi Mumbai and Thane.
Price: INR 10,000 and above for different services
Job Nukkad
JobNukkad is run by professionals who have worked in multi-national companies and want to impact the lives of people they meet. The company is said to do extensive background verification to help you find the best maid. They also mention on their website that they commit to providing you a maid within 3 working days.
Their services include babysitters (eight, ten, 12 or 24 hours), nannies (full-time or part-time), Japa maid, and maids for household work.
Their service fee is one month's salary and you can pay it after a trial period of 5 days.
Price: INR 1,000 per hour for a month
Call: +918828329700
Book My Bai
Bookmybai.com, started in 2015, is a domestic help aggregator that helps you find a maid for cleaning your house, cooking, babysitting and even elderly care. It's spread across multiple cities and also has a presence in Dubai, London, Sri Lanka, China, Hong Kong and Singapore. According to their website, you need to tell them what you require and then you get to shortlist your preferences.
They also claim to do a thorough background check of all their employees and assure you that in case the maid leaves within six months of joining, they will replace the maid without asking any questions.
Price: INR 5,000 per month. They also have a one-time charge that is one month's salary plus 18% GST
Maid In India
Run and managed by a non-profit called Decimal Foundation, Maid in India provides employment to housemaids/domestic workers and housekeepers. What we've really liked about this is that every time a maid is employed through this channel, a portion of the salary goes in providing them vocational training, health and savings benefits, insurance and job security.
They also do their own reference check, and also provide packages during festivals or other celebrations where spring cleaning is involved.
Their locations are spread across Worli, Parel, Byculla, and Colaba.
#LBBTip
If you want deep cleaning services, MyDidi can help. Their employees, called Didis, are said to be trained continuously to ensure that they are friendly and professional. They also have an app that is pretty neat, called the mydidi app, which is available on Playstore.
Price: INR 1,440 (express deep cleaning), INR 1,200 (carpet cleaning), INR 1,200 (sofa cleaning), INR 4,099 for 1 BHK, INR 5,199 for 2 BHK, INR 6,199 for 3 BHK, INR 7,699 for 4 BHK and INR 9,199 for 5 BHK
Comments