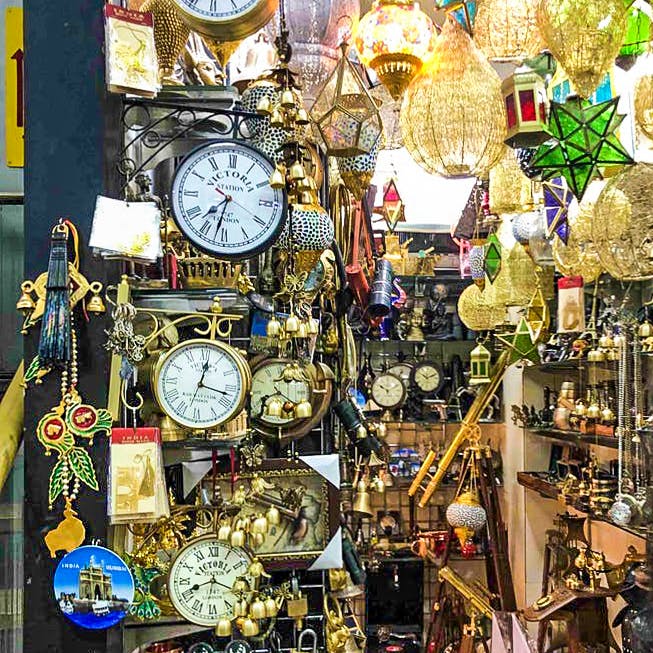 Jewellery, Bags, Art & More: Our Guide To Colaba's Metro Plaza
Colaba's got a lot of gems thrown around every street that bring us so much joy. Metro Plaza is one such place that always stands out, for its sheer variety in shopping, from home decor to accessories and even services! Take a look at our favourite picks.

Kohinoor Jewellery
As soon as you enter, you grab a small tub of boiled corn (seasoned the way you like it!) and then turn to the first shop called Kohinoor. Dripping with all sorts of costume jewellery, you can't help but gasp at the colours on display and the variety in store. The extreme left part of the shop has a section where ethnic jewellery starts at INR 100, and then progresses towards the store (INR 150 for most of their earrings). Their bangles sets start at INR 250, ornate earrings can go up to INR 350 and neckpieces start at INR 300. You'll find a lot of tassel work here.

Dior
Wow. This store is what jewellery dreams are made of. Earlier an antique store, Dior is revamped with all sorts of costume jewellery, including gorgeous metal (brass and ceramic stone) bags that can probably match those earrings you've laid eyes on. Their earrings start at a modest INR 100 and neckpieces from INR 300. The owner and his son will let you try on their stuff too, without a hassle, and usually suggest what works best with what sort of outfit you want to pair your jewellery with.

Mahira Bags
As you head up and walk into the old-fashioned mall, you'll come across a tiny bag store called Mahira. They've marketed themselves well, their most colourful pieces hang right in front and then, as you walk in, the owner beckons you to look at some of his most treasured pieces. If you're into slings, they have some gorgeous ethnic ones starting at INR 450. But, their treasured collection has bags made of marble that come for INR 3,500; and they even have a few bags made of shells that cost around the same range. If you're into beaded bags and sequined clutches, they start at INR 550.

Jaffar Arts
Now, this is another tiny store right in the middle with a cool collection of bags. You'll find ethnic printed and contemporary mobile pouches that start at INR 100 and can go up to INR 250. They have tassle slings too, that start at INR 350. What really caught our attention was their range of circular metal bags with stone detailing that start at INR 1,500. Perfect for gifting? We certainly think so!

Mahira Shoes
Right next to Jaffar Arts is Mahira Shoes, a place that has a great collection of shoes that have lasted us at least 2 years (still wearing my first pair!)
They have all sorts of shoes, from ethnic to contemporary. Their ethnic jutis/sandals start at INR 400 onwards. They have pretty formal shoes for women that start at INR 300 (be sure to bargain here!) Their sneakers are really pretty too, in pastel shades, that start at INR 600. They also have slippers that you can pick up for just INR 250. Steal deal, we think.
Planet G
When we walked in, little did we expect to find a tailoring service promising to make you custom suits in just 6 hours! We aren't kidding. They make suits for women too, where a 2-piece suit will cost you INR 6,000. Not just that, they also sell pure leather jackets here, starting at INR 6,000. You can get your jackets customised as per your need and want and they'll do it for you in 24 hours. Now, isn't this something?

Choice Store
We love home decor, and whenever we find a store (any size or shape) we have to stop and stare. We were in luck here, this store has a bunch of curios that we wanted to pick up, starting at stone and brass inlay rickshaws at INR 1,500; brass locks & keys (all sorts of shapes) from INR 1,500; a record player that still works beautifully for INR 15,000; brass keychains in multiple designs for INR 200; and even a brass cannon for INR 25,000. There's a lot to see, and even more, you'd want to take home with you.

M. Boutique
Competing directly with Planet G is M. Boutique. We believe the 'M' stands for men, as it only caters to their work. This store can stitch you a men's suit in 5 hours. Yep, that's what they promise. If you're interested, a 2-piece suit will cost you INR 9,000. It's great to bookmark in case you have a last--minute function you just can't avoid.

Comments