Tired Of Gokul And Janata? We Love Sunlight Bar For Cheap Booze & Its Jukebox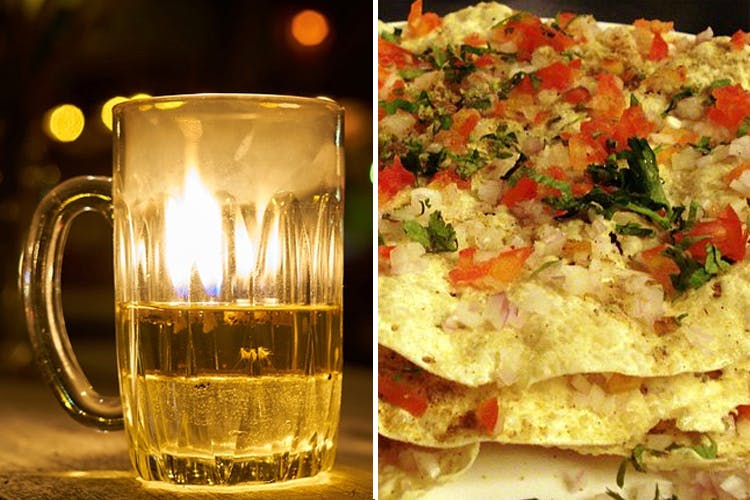 Shortcut
Cheap alcohol, food and a jukebox – we explore why Sunlight should be in you go-to list in the city.
What Is It?
The archetypal bar will make you say 'shady, shady, shady' but if you're a regular at Janata or Gokul, it'll seem like a cakewalk. You'll usually find college students thronging here to get a cheap drink and a plate of masala papad. You'll also see middle-aged men trying to decode the latest policy passed by the government. They also have TV screens to keep you occupied, a juke box that belts out everything from U2 to Alisha Chinai's 'Made in India'.
Chow Down
Rule no. 1 – you don't go to Sunlight for the food. Leave your taste buds and your imaginary mental food blog at home, when heading here. The safest bet here would be the snacks and Chinese. Aloo chaat comes at INR 60, kanda bhaji comes at INR 70 and mutton kheema comes at INR 70.
Sip On
The air-conditioned area will cost you more. A beer will come for INR 210 in the non-a/c area and INR 260 in the a/c area. Sunlight doesn't serve cocktails so don't expect to sip mimosas on a Sunday morning here. Instead, trust the Old Monk and dive in to what will be a no-nonsense drinking session.
So, We're Saying...
It holds a very high nostalgic value among students and the regulars. It's definitely worth a try if you love Janata and Gokul.
Comments