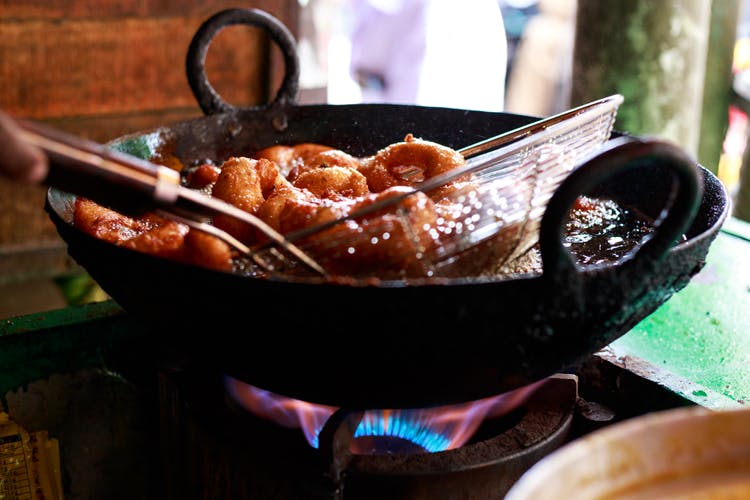 The Underestimated Street Food Of Bandra East
One place which hardly gets talked about for its food in Mumbai is Bandra East: the quieter, unassuming, largely Maharashtrian residential neighbour of young and glitzy Bandra Kurla Complex (BKC).
While BKC has some of the newest and fanciest restaurants in the city these days, Bandra East has quite a few hidden gems too. And I am not just talking of Highway Gomantak.
Aai Tuljabhawanni Prasann stall
Located next to Guru Nanak Hospital, this stall is run by Mr Kamble, and the food is cooked by his wife, Mrs Prabha Kamble.
Chow Down
I get the Maharashtrian vegetarian breakfast staples: poha (rice flakes), upma (savoury semolina) and sheera (sweet semolina) till about 12.30pm in the afternoon. I would recommend the poha (INR 20). I always go down at 11am from office to eat it when I come here.
Need To Know
The upma gets a bit stodgy when cold. Occasionally the poha is a bit spicy in which case you can wash it down with chhas (butter milk). They have also introduced a vegetable pulao for lunch.
Sai Balaji Dosa Centre
This too is a street side stall, this time run opposite Guru Nanak Hospital, and is run by Gomti and her husband who came to Mumbai from Tamil Nadu.
Chow Down
I get amazing, piping hot idlis (it takes a lot for me to say amazing and idlis in the same breath) and crunchy medu vadas in the morning: INR 30 for a plate of two each. Gomti makes the sambar too, which is not sweet unlike in Udipi joints, coconut chutney and a delicious onion, tomato and chilli fresh chutney. The norm is to pile the chutneys on the vadas and there is a cheaper plate of 3 for INR 20.
Need To Know
Gomti sometimes makes soft dosas (Tamil-style and different from that in Udupi joints) in the afternoon and winds up by 3pm.
Sadichcha
This is my go-to option for lunch when I don't get my dabba. Sadichcha serves Malvani (coastal Maharashtra) and Gomantak (Hindu Goan) food. It is not as well known as Highway Gomantak, but locals who live here seem to love it.
Chow Down
I love the Bombay Duck fry here, the super spicy sukha mutton (succulent goat meat) thali with soft rotis and then sol kadi to cool yourself down with. I recently had a delicious prawn curry in the thali (INR 270). It beat my expectations as I am not a big fan of Malvani or Gomantak (prawn was Gomantak) curries in restaurants normally. The prawns were tiny but juicy and not overcooked unlike the norm in such places.
Need To Know
It's packed during lunch time, but I always get service with a smile. The managers know their stuff and can answer any questions I ask them about the food. Sadichcha is a non-air conditioned joint, and you share tables here if alone.
Shree Krishna Fast Food
Open through the day near the Hallmark building and always packed with people, the freshly fried vada pav (INR 12) at Krishna Sagar is the stuff of legend.
Chow Down
If the vada pav is too spicy, then I opt for the dahi kachori for dessert (INR 20). The samosas are popular here too but are too spicy and big for me.
Need To Know
A tea stall next to Krishna finds many takers for their choice to flavour their tea with cardomom and not ginger.
Maharashtra Channa Bhandar
If a vada pav seems too sinful then I try a sukha bhel at the Maharashtra Channa Bhandar next door.
Chow Down
Their sukha bhel (INR 20) doesn't have the sweet tamarind chutneys of regular bhel. They will ask you for your preferred teekha (chilli) levels here.
Need To Know
I get regular bhel and sev puri too, which are on the sweeter side.
Since this is a Maharashtrian-run shop in a Maharashtrian dominated area, I will abstain from blaming the sweetness of the bhel on the love of sweets among our Gujarati community.

Comments