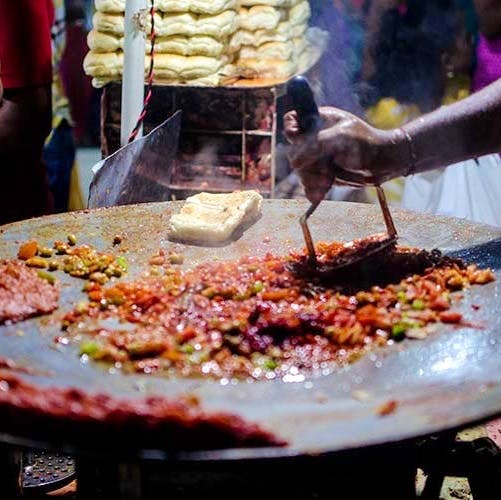 Maggi Dosas, Pav Bhaji And More: These Eateries Serve Excellent Street Food
Street food is the heart of Mumbai, and the spices bring everyone together. While there are many joints that the city boasts of, we've listed down our favorites. So here's where you can find some amazing, mouth-watering, and delicious street food in the city. Let the street-food marathon begin!

Anand Stall
This little shop is a hub of tastes. The Special Pizza Dosa attracts a lot of people from the city. The blend of cheese mixed with veggies with some spicy chutneys makes it difficult to not droll. They offer 50 types of dosas and other snacks like crunchy vada pavs, grilled sandwiches, frankies, and special drinks too.
Shell Out: INR 200 onward.
Raju Sandwich
Popular with the youth, right opposite HR College, this eatery serves the best sandwiches in town. You can't miss the Panini Sandwich here. The sandwich is mixed with vegetable stuffing, melting cheese, and some seasoning, They also offer frankies and other grilled sandwiches.
Shell Out: INR 110 onward.
Sai Swad Dosa
Ghatkopar Khau Galli is famous for this dosa centre. It serves 45 types of dosas and each of them is unique. Their Jini Dosa is a real crowd pleaser and other dosas like Manchurian dosa, Maggi Dosa, Chocolate dosa are must-tries.
Shell Out: INR 200 onward.
Ashok Vada Pav
Ashok vada pav serves the best vada pav in the city. These potato bombs (vadas) dipped in the batter are crunchy and taste really good. These are served with chura and spicy chutneys that make it taste even better.
Shell Out: INR 50 onward.
Sardar Refreshments
This place is always crowded with people waiting for pav bhaji in queues for hours. The aroma of the Pav Bhaji made with mashed potatoes, veggies, tangy tomatoes, and ample butter makes the wait absolutely worth it.
Shell Out: INR 200 onward.
Pure Milk And Snacks Center
Do anything but don't miss out on the cheese burst dosa at Pure Milk and Snacks Center, people. This one in Ghtakopar is the real show-stealer when it comes to the plethora of street food they have to offer. Oh and if we're talking about innovation in street food, and the revolution it's gone through, let's not forget about this joint's waffle uttapam.
Shell Out: INR 300 onward.
Comments