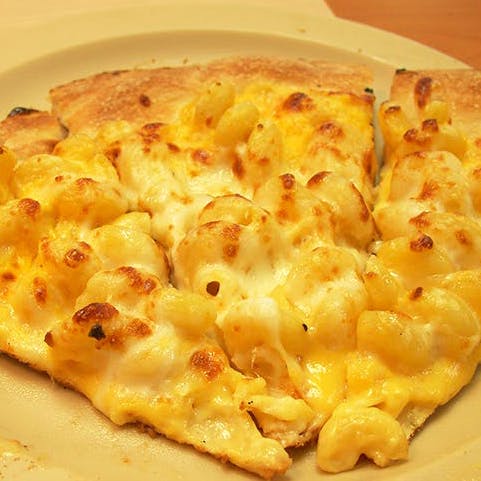 Kurkure Pizza, Anyone? The Eight Weirdest Pizzas In Mumbai You've Gotta Try
We don't need to make a case for it and neither do you, when you're out hogging on it. Or, you know, in bed while binge-watching a trashy show. So here it is, a list of unusual pizzas you can try across the city.
The 40-Inch Pizza At Gustoso
This rectangle-shaped pizza has 16 slices and is baked in a wood-fired oven, as is the norm in the restaurant. You will (hopefully) not just be ordering for one, and there will be a debate on what type of pizza to get. You can mix around with the toppings, and make it a bunch of pizzas in one. A vegetarian margarita pizza would cost approx INR 2,300.
Nutella Pizza At 1441 Pizzeria
Two words. Nutella. Pizza. Two sinful things never made anything bad. They top it up with fresh fruit. Go try this at INR 295. Also try the chocolate and marshmallow pizza at Le Café and Nutella, marshmallows and toasted nuts pizza at Silver Beach Cafe. Sinful but totally worth it.
Nachos And Fries Pizza at Dinshaw's Xpress Cafe
Dinshaw's serves a nachos and fries pizza along with cheese and chicken. If you're pinching yourself already, let us tell you, it's real. At INR 299 we'll be stuffing ourselves with all our favourites.
Kurkure Pizza At Ulta Pizza
You can bring your snacking game to the office table, Italian style with the Kurkure Pizza at Ulta Pizza. Served upside down, it's available at INR 140.
Jalapeno Popper Pizza At The Playlist Pizzeria
Always fancied Jalapeno poppers on your pizza? It exists at The Playlist Pizzeria under the name 'Drop The Game'. Eat this while listening to Chet Faker for INR 653.
The All- Chicken Crust Pizza At Foodgasm
Hate bread? Try the all-chicken pizza at Foodgasm. The base is entirely chicken breast and they top it with vegetables and cheese. At INR 290, one person can eat his/her heart out with this. Also, so healthy!
Naanza At The Central Kitchen
Here's a desi one. If you're torn between Punjabi and Italian, The Central Kitchen may help you decide. It offers both together with Naanza (Naan Pizza) at INR 195. Available with different toppings like schezwan, makhani, barbeque and cheese among others, this will have you full in minutes.
Comments