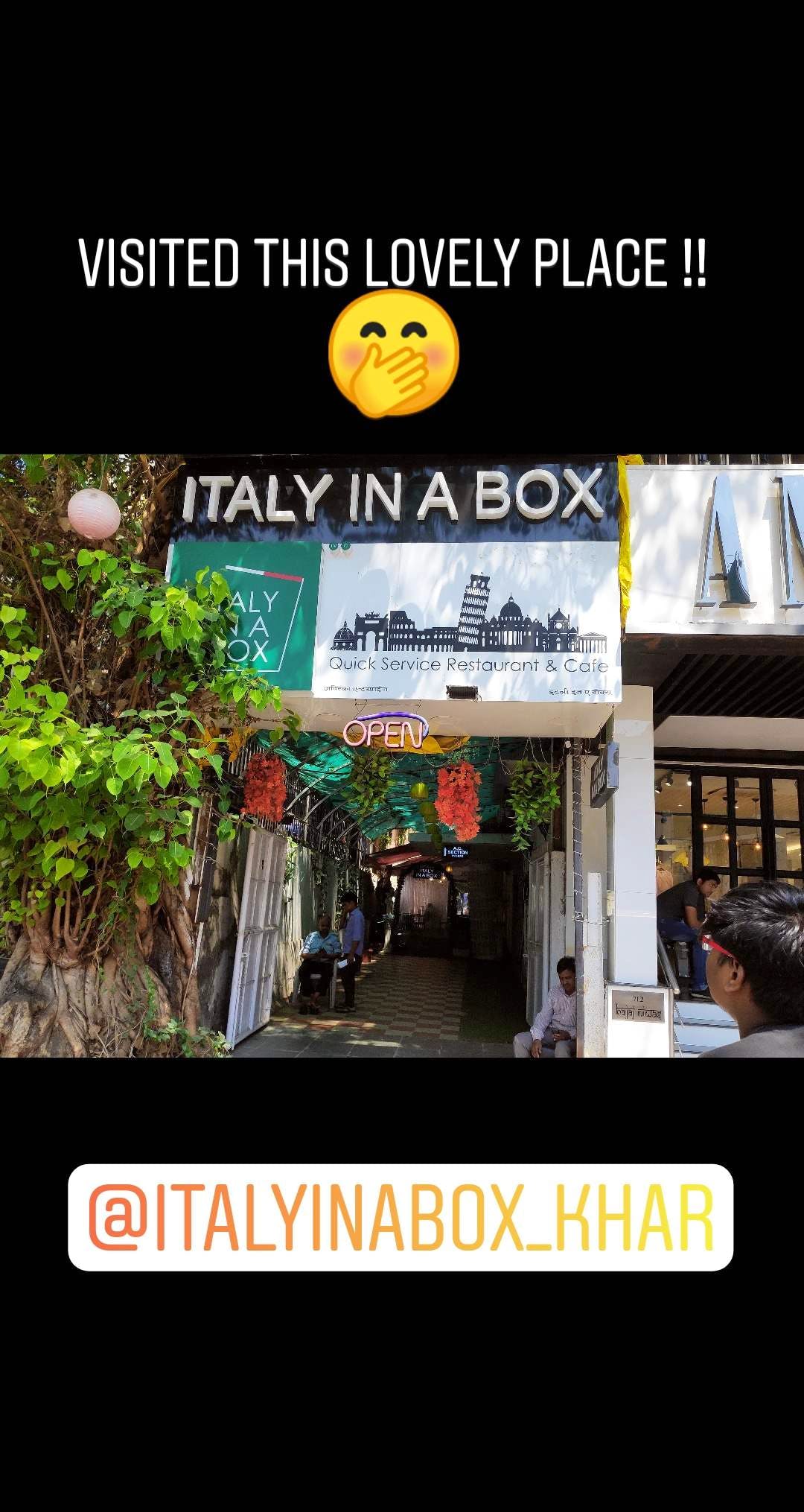 Wanna Have Vegetarian Italian Food? Italy In A Box Is Just The Right Place For You!
What Makes It Awesome?
Italy In A Box, a vegetarian Italy place in Khar serving some lip-smacking food dishes in a cute yet cool place in terms of ambience. Coming to the food:- Green apple ice tea:- To beat the heat we tried green apple ice tea which was cooling and refreshing. Loved the taste. Nutella Chocolate shake:- Then we went on with something Chocolate such as Nutella shake. The presentation looked simple yet elegant and the taste was really good. With Nutella and some chocolatey soothing drink really made me hungry for my next course. First, we ordered Pesto sauce pizza:- Thin crust base and consisted of pesto sauce with onion, baby corn, black olives, bell peppers and some cheesy mozzarella. Alfredo exotic pasta:- Creamy pasta consisting of toppings such as broccoli, mushrooms bell peppers, nutmeg & corn. The sauce was the most important ingredient here which they got it right. And the pasta was cooked perfectly soft and lovely. Fiacona bread sandwich:- One of the best sandwiches I have tasted here. The secret is not only the filling but also the bread. The bread is soft, not chewy. The buttered bread really adds a punch of flavour. The filling which consisted of some diced vegetables was really great. And then for dessert, we had Chocolate brownie with vanilla ice cream:- The presentation was good here. Keeping it simple and yet elegant. The brownie was hot when it arrived and the vanilla ice cream with the brownie tasted so great. The brownie was hot and soft. Overall the experience here was good and it's a good place for veg Italian dishes.
What Could Be Better?
The dessert menu is big but they don't have half of those items available. So a concise menu consisting of limited items should be there so they can provide to those dishes to customers
Ask Shweta a question