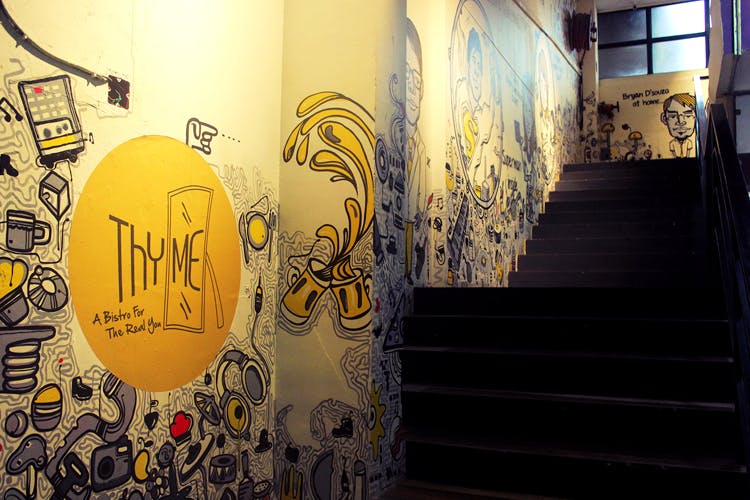 iPads, Free WiFi And No Pressure To Order At This Work-Friendly Bar In Huma Mall
Shortcut
Thyme Bistro is a work-friendly cafe with dream-office facilities – free WiFi, a boardroom, library and more, which turns into a party spot in the evenings.
Why Should I Go?
Thyme Bistro is a fully functioning bar all day long. But with a big difference – it has the kind of facilities which make it a very hospitable location for those looking to get away from the office, yet get some work done.
We don't have to order anything to eat or drink to avail of these services. Sitting at Thyme allows us access to not only the WiFi, iPads, a library of fiction and non-fiction books, and individual plug points for each table.
The pub also has a private meeting room and a high-definition projector.
Seven pm onward, the pub goes into full party mode. Coke Studio and retro hits are replaced with party numbers, and the lighting is dimmed.
What Else?
The pub has the kind of garage-bar chic that we're honestly getting a little tired of seeing in Mumbai. Caricatures and artworks all over the walls make this a slightly confusing place to work. But we are liking the menu, which is both pocket-friendly and expansive.
Vegetarians can rejoice as they haven't skimped on their side of things. Misal fondue, paneer tikka and vegetarian cigars are some items we're looking forward to trying. The beverage menu includes a Nutella protein shake and a peanut butter milkshake. For fitness freaks, the restaurant also uses a "no added sugar" rule for its freshly made beverages.
So We're Thinking...
While it sounds a tad gimmicky, we do think it's about time that the city's cafes and bars began offering customised services to our considerable white collar population. We won't be too shocked if we spot a client working on their brief while listening to Coke Studio and retro hits.
Comments