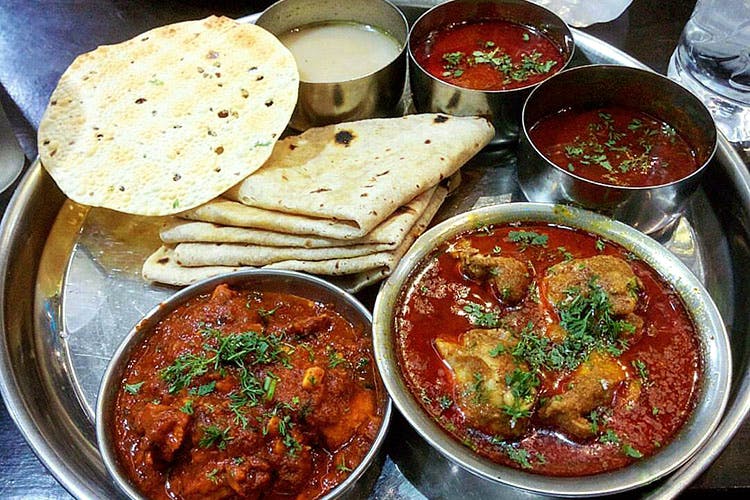 Craving Something Hot & Spicy? Try These Authentic Kolhapuri Thalis Starting At INR 110
For those always who are hungry, thalis are the best option. And, when the thali is an authentic Kolhapuri one, you'll definitely go the extra mile to eat more. Check these 5 places that serve the best Kolhapuri thali in Pune.
Maharashtrian Darbar
If you are craving some really spicy Kolhapuri delicacies, this place is a must-try. This authentic outlet is one-of-its-kind. They serve the infamous Kolhapuri chicken meal (INR 199) with chicken in red gravy, 3 chapatis, a bowl of biryani and solkadi that will have you licking your fingers.
Sugran's Kolhapuri Non Veg
Oldest of the lot and the most experienced, Sugran's Kolhapuri Non-Veg is a must-try for all spice lovers. The ambience might not be the highlight here but their food more than makes up for it. Have their special mutton Kolhapuri thali for INR 390, and do ask for rassa along with it. They also have budget-friendly options for the ones who don't eat as much. So go here the next time you want to break some mutton bones.
Hotel Gavran Kolhapuri
Unlike the others on the list, this place makes their own spices and masalas, which makes their food one-of-a-kind. Pocket-friendly and yummy, the restaurant serves only non-vegetarian food and specialises in mutton dishes. You have to try their the mini mutton thali that is priced at INR 200.
Purepur Kolhapur
When it comes to Kolhapuri food, this small outlet in Kothrud has one of the best dishes to offer. They serve quality food but it can be a tad bit spicy. The special chicken tadaka thali for INR 280 has every flavour that your taste buds desire. So, head there at once.
Maratha Kolhapur Darbar
If you are a diehard non-veg lover, you must visit their outlet in Sadashiv Peth. We're certain you will visit this place time and again for the deliciousness they have to offer. Their special mutton fry thali that is for INR 280 is our favourite and we recommend you order it the next time you go there.
Comments