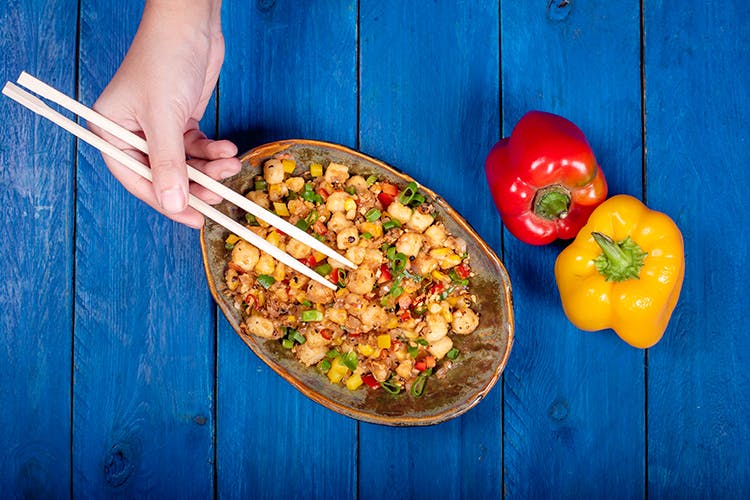 Calling All the Foodies: Spend A Day Eating Your Heart Out At The Pavillion Mall
Shortcut
The Pavillion Mall on Senapati Bapat Road has become the one-stop destination for all the best the things in shopping, entertainment and food category. From having a word class food court to some of the best restaurants, the Pavillion Mall is the place to be if you call yourself a foodie. So if you are in the mall, we totally recommend you check these four restaurants out.

British Brewing Company
Craving some hash browns or Shepherd's Pie? Think no more and head to the British Brewing Company, another new addition to the Pavillion. They have an expansive menu consisting of platters, pizzas, pasta, and more. But we totally dig their British Corner menu, especially the Lamb Shepherd's Pie and Grilled Lamb Chops. Don't forget to check out their latest offers on drinks and food before you walk in.
Mamagoto
With its quirky decor and a pan-Asian menu, there is nothing we don't love at Mamagoto. Gorge on some delectable delicacies which are the perfect blend of modern and traditional Asian cuisine. We suggest you definitely try out their dim-sum, maki rolls, their 'signature bowls', and the sticky rice with mango, or home-made coconut and palm sugar ice cream for dessert. Read our full recommendation here.
TGI Fridays
Not just Fridays, this place is great to chill on any given day. So when you are tired from all the shopping, stop by at TGI Friday's and sip on their refreshing Long Island Iced Tea accompanied by their delicious chicken wings. If you are a huge meat lover, do give their 'Baby Back Pork Ribs' a try! You will not regret it!
Cafe Delhi Heights
Located on the second floor, this restaurant is one of the newest additions to the mall. If you are a vegan, a health-freak or a hard-core non-vegetarian, this place has got something for everyone. What we love here, you ask? We totally love their Juicy Lucy Burger, a monstrous yet oh-so-delicious burger that we could gorge upon all day. If you want a taste of Delhi, do try out their Butter Chicken and wash it down with a beverage of your choice.
So We're Saying…
If you are in the Pavillion Mall, you must explore their restaurants who have brought cuisines from around the world to your plate. We definitely cannot wait for the next addition to this elite list of restaurants at The Pavillion.

Ask Vaishnavi a question