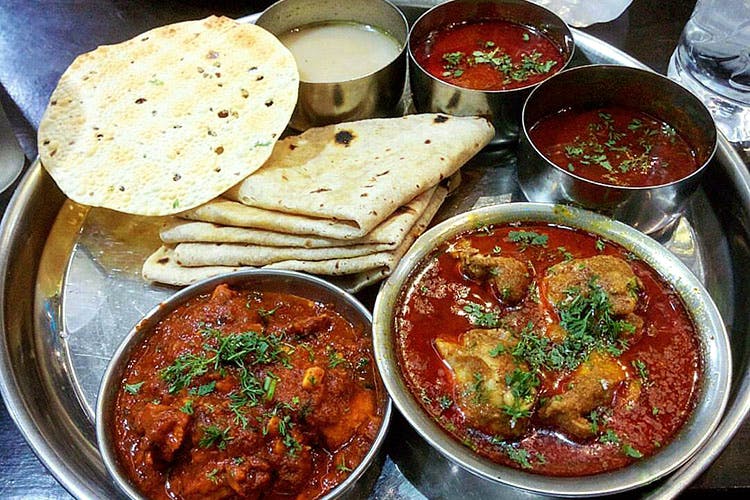 Satiate Your Inner Carnivore With The Best Kolhapuri Thalis In Pune
Have you obeyed the rules and regulations of Shravan this year? Well then my friend, it's time that you treat yourself with some deliciously meaty Kolhapuri thalis in Pune. Don't know where to get them? Here's where you can:
Maharashtrian Darbar
Located in Phoenix Market City, Maharashtrian Darbar serves authentic and delicious Kolhapuri food. You will find dishes such as Kolhapuri-style biryani, mutton and chicken kheema pav, puran poli and much more. They serve a limited thali for INR 199.
Sugran's Kolhapuri Non-Veg
The word 'sugran' in Marathi means someone who can cook delicious food. Living up to this, Sugran's Kolhapuri Non-Veg in Sadashiv Peth, serves authentic Maharashtrian-style food. If you have a large appetite, you should definitely try their chicken, mutton and fish thalis which start at INR 240.

Hotel Gavran Kolhapuri
If you are working in Kharadi then, make your lunch break special with food from Hotel Gavran Kolhapuri. Like their name, they serve authentic Kolhapuri food which is also delicious. They have chicken and mutton thalis; starting at INR 155 try their chicken mini thali. Their mutton mini thali and mutton deluxe thalis are priced at INR 175 and INR 220, respectively.
Purepur Kolhapur
Karve Nagar peeps! Head to Purepur Kolhapur for some delicious non-veg thalis. They serve the famed tambda and pandhra rassa along with a bunch of other dishes. They have thalis in chicken, mutton and even in veg. The prices for their thalis starts at INR 150, which was the veg thali. Their non-veg thali starts at INR 210.
Maratha Kolhapur Darbar
Love spicy food? You have got to check out Maratha Kolhapur Darbar in Sadashiv Peth. They have some delicious chicken, mutton and fish delicacies. For those who have a large appetite, you can dig into their thalis which start at INR 180.

Surve's Pure Non-Veg
Carnivores, ahoy! Surve's Pure Non-Veg is just the place for you. Located across four locations in Pune, Surve's mutton and chicken thalis are something that Punekars swear by. Their mutton thali starts at INR 200 and chicken thali starts at INR 350. If not thali, you can also go for their ala carte menu as well.
Hotel Maratheshahi
A relatively new restaurant, Hotel Maratheshahi is serving some authentic Maharashtrian delicacies in Kharadi. They have thalis in chicken, mutton and fish. The prices over here start at INR 190.
Maharaja
Eat like a royal, at Maharaja on Dhole Patil Road. The restaurant serves a delicious mutton and chicken thali that are fulfilling. You get both your rassas, chicken gravy and extra gravy too along with rotis and biryani. The prices for them start at INR 385 and INR 330, and it's absolutely worth all the hype.

Maratha Samrat
Spread across various places in Pune, Maratha Samrat is known for its Maharashtrian-style food. They serve dishes from various parts of the state. They have Kolhapuri thalis in mutton as well as in chicken. However, that is a special order and not available on the menu.
Comments