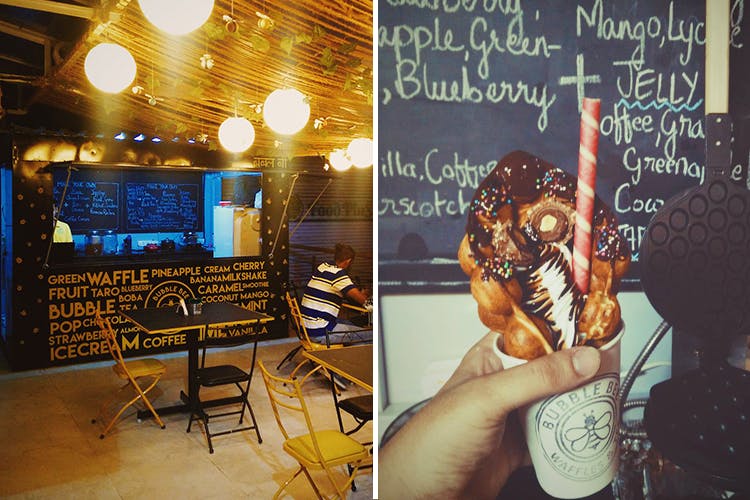 Go Crazy: You Can Top Your Waffles With Ice Cream, Oreos & Sprinkles Here
Shortcut
It might seem like Bubble Bee has only bubble waffles and bubble tea on its menu, but don't be fooled. There's so much you can do to your waffle to make it seem like home.
Tell Me More
Does whipped cream, waffles, ice cream, oreo, sprinkles and the likes make your heart ache in want? Do you crave to eat a dessert so very topped and sweet that it makes you lose all inhibition and dig in? If you're drooling in response, then may we please have your attention.
Bubble Bee allows you to build your own waffle. You get to pick your choice of waffle, filling and topping. The chocolate bubble waffle with ice cream, gems and nutella tastes like perfection topped with some more. Eating your waffle can be a task, given that it's overflowing with all those other treats. The trick is to get enough of what's in there and not worry about creating a mess.
You can even get yourself some bubble tea which comes in a number of flavours with an addition of either boba or jelly.
It's cutesy decor with beautiful lighting and colourful outdoor location adds a casual vibe to this small establishment, allowing you to go savage on your dessert without the fear of being judged.
So We're Saying
Bubble Bee is making quite the Buzz (!) around town, so do yourself a favour and getting going already!
#LBBTip
If you're heading here after a meal, you could share your waffle between two or else it might be a bit too much for a single person to get through it. But hey, if you're feeling adventurous (read:greedy), don't let us tie you down.
Comments