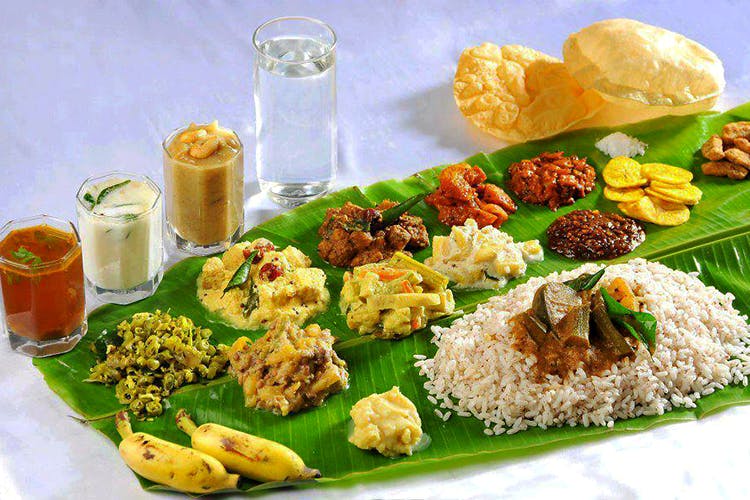 Dig Into A Delicious Onam Sadya At These Restaurants In Pune
One of India's most popular harvest festivals, Onam is celebrated with a lot of enthusiasm in Pune. Appam, stew, puttu, kadala curry, kappa, erachi and payassam are highly sought-after and you'll come across long lines of customers waiting for their chance to enjoy the Onam Sadhya at every Kerala restaurant.
Here's a list of the best restaurants that offer a delicious Onam Sadhya spread. And you can dig into it whether it's Onam or not.
Kerala Fast Food
One of the most authentic Kerala restaurants in Pune, this tiny establishment in Aundh comes with no added frills. Known for exceptional service and authentic Kerala style cooking, their Onam Sadya is one of the most authentic ones in the city. You'll get authentic Kerala brown rice, vegetable, chutney, sambar or rassam and more on your leaf. An Onam sadhya here will set you back INR 120. You can also get a chicken, fish or a buff meal.
Chopsticks Spice Malabar
One of the most popular Kerala restaurants in Pune, this restaurant in Viman Nagar has over the years gained a large fan following, all thanks to the Onam Sadya spread. Don't be surprised if you see yourself at the end of a long line when you walk in for the meal. The earlier you go, the better. Be prepared to sit down community style and dive into some of the best Onam Sadya in town. A veg meal here will cost you INR 160 and you can also get chicken, mutton, fish and prawn meals here.
Kerala Café
A popular favourite, the Onam Sadya here offers 36 traditional dishes! Work up an appetite and get set to enjoy a feast fit for a king. You can enjoy a veg meal at INR 190 and also choose to opt for a chicken, fish, mutton or a buff meal here. The options are endless and you'll find quite authentic flavours too. The restaurant is also very family-friendly if you're looking for a Onam celebration spot in the city.
Malabar Xpress
Located in Wanowrie, this Kerala restaurant dishes out some of the most authentic and delicious preparations of the cuisine in this neighbourhood. Every Sunday they offer their Kerala sadhya, an unlimited 12-course vegetarian meal for INR 275 only. Can you imagine how fulfilling this is? If not, head to the restaurant and definitely give it a try.
ALLEPPEES Kerala Restaurant
Head to Aleppees Kerala Restaurant in Hinjewadi for a Kerala meal on a leaf for INR 100. However, this is available only for lunch. Offering several items from the southern state, the restaurant tries to keep its flavours as authentic as possible. The menu is full of Mallu food, but also offers a few other dishes like Chettinad-style curry, chicken 65 among others.
Ask Protima a question