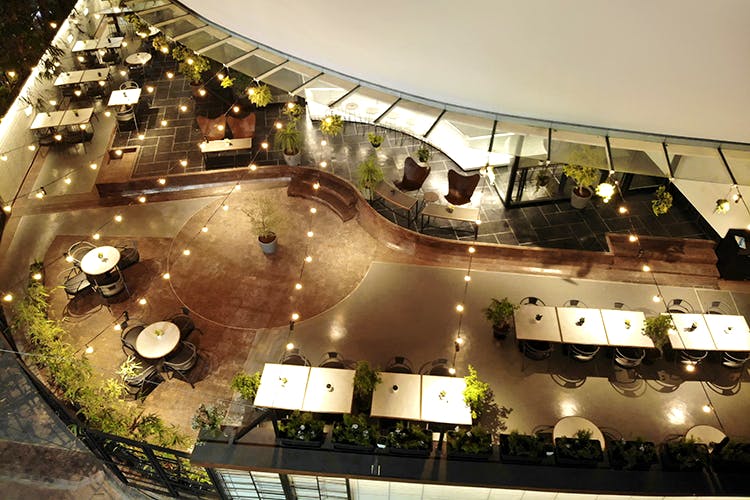 Rekindle Your Love At These Romantic Restaurants In KP
Open air, bright lights, cozy setting, delicious food, romantic decor: Who doesn't like a cozy dinner with bae? Whether it's your first date or silver jubilee, Koregaon Park has several romantic restaurants that offer amazing ambiance, awesome food and beverages for all kinds of couples. When in KP with your S.O., check out these lovely romantic restaurants.

Botequim Cervejaria
Welcome to romantic Brazil! This is the exact thought that you will get when you visit Botequim Cervejaria, a romantic rooftop bar with super pretty decor. Meaning a small boteco (bar) in Portuguese, this place is situated right above Boteco in Koregaon Park. With plants, lights, and lanterns in abundance, it makes for a perfect date-night spot. If you want to dine under the stars, we assure you this is one of the best places. It's where you can enjoy 14 types of beers and authentic Brazilian cuisine. Their must-try dishes include pao de quiejo, churrasco platter and Oreo cheesecake.

The Daily All Day
This restaurant has the quintessential 'meet and fall in love' vibe. The Daily All Day is a classy all-day diner in lane 7, KP that has the edgiest and sassy decor you'll see. The cuisine they prepare is exquisite and you'll fall in love with your bae at this place all over again. Try their specialty puff pastries, exotic mains, and tropical boozy concoctions. From their summer cocktails, we picked the 'Bombay Nasty' – a refreshing concoction of dark rum, cucumber, mint, watermelon, coriander, and pineapple juice.
Kargo
Kargo is a quintessential pretty date place in KP which serves excellent exotic food. If you and your bae are foodies, there is nothing like this place. Herbivores, we recommend you try the spicy barbecue cottage cheese naanza for INR 209. If you love it sweet, try the naanza with caramelised onion, mushroom and pok choy. Their mango cheesecake is to die for. Your romantic meal cannot be complete without you and your S.O. digging into this dessert together. The classic decor is something you will love.
The Sassy Spoon
This place in lane 7 KP is decor goals! If you love sitting in cozy cafes with the love of your life or simply chill in garden seatings, The Sassy Spoon is the perfect place to visit. Dig into the sinful desserts together, enjoy a cocktail or try something from the exotic menu, this is undoubtedly one of the most romantic restaurants in KP. Try their pasta, small plates and macarons for that perfect classy brunch.
One O Eight Cafe
If you are a calorie-conscious couple, this cafe is the one for you. For anything healthy and exotic, One O Eight Cafe is the place to be at. Situated in Koregaon Park, this place serves smoothie and acai bowls in the city. In the name of breakfast bowls, they have cacao berry bowls, dragon smoothie bowls, pink passion acai bowl and granola bowls, which you can savour for a healthy breakfast fare. Try the salads and small plates too. The decor is minimalistic, neat and colourful. In short, you will fall in love with the vibes.
Dario's
Few things are more romantic than dining by candlelight under a canopy of some of Koregaon Park's oldest trees. Dario's is ideal for dinner with your S.O. for a long overdue date night. Featuring authentic Italian fare, the menu is balanced between heavy and healthy dishes, so there's enough variety to choose from. Do not miss the delicious waffles that you and your S.O. will love.

Harry's Kitchen & Bar
Singapore's Harry's Bar opened at 'Out of the World' in lane 7, Koregaon Park and it is one of the perfect date places we know. Whether you are brunching with your date, enjoying lunch or even dinner, the menu there will cater to all your whims. Try the signature Harry's blends cocktails and sushi. There is live music on Wednesday and Friday nights which adds to the romantic atmosphere.

Zen Cafe
Do you believe in the conventional 'coffee on first date'? Zen Cafe in KP is where you should visit. With serene vibe and zen decor, you will have a great time with coffee and a conversation with your date. Cafe Zen has a dedicated brew bar where they make artisanal coffee using methods like aeropress and pour over. We particularly enjoyed our smooth espresso martini with a tinge of hazelnut. For those of you who aren't into coffee, try their teas and other beverages. The menu is very sophisticated and incorporates tons of homegrown and handpicked ingredients. We absolutely loved our teriyaki tofu with soba noodles and roasted pumpkin ravioli tossed in thyme butter sauce.
Comments