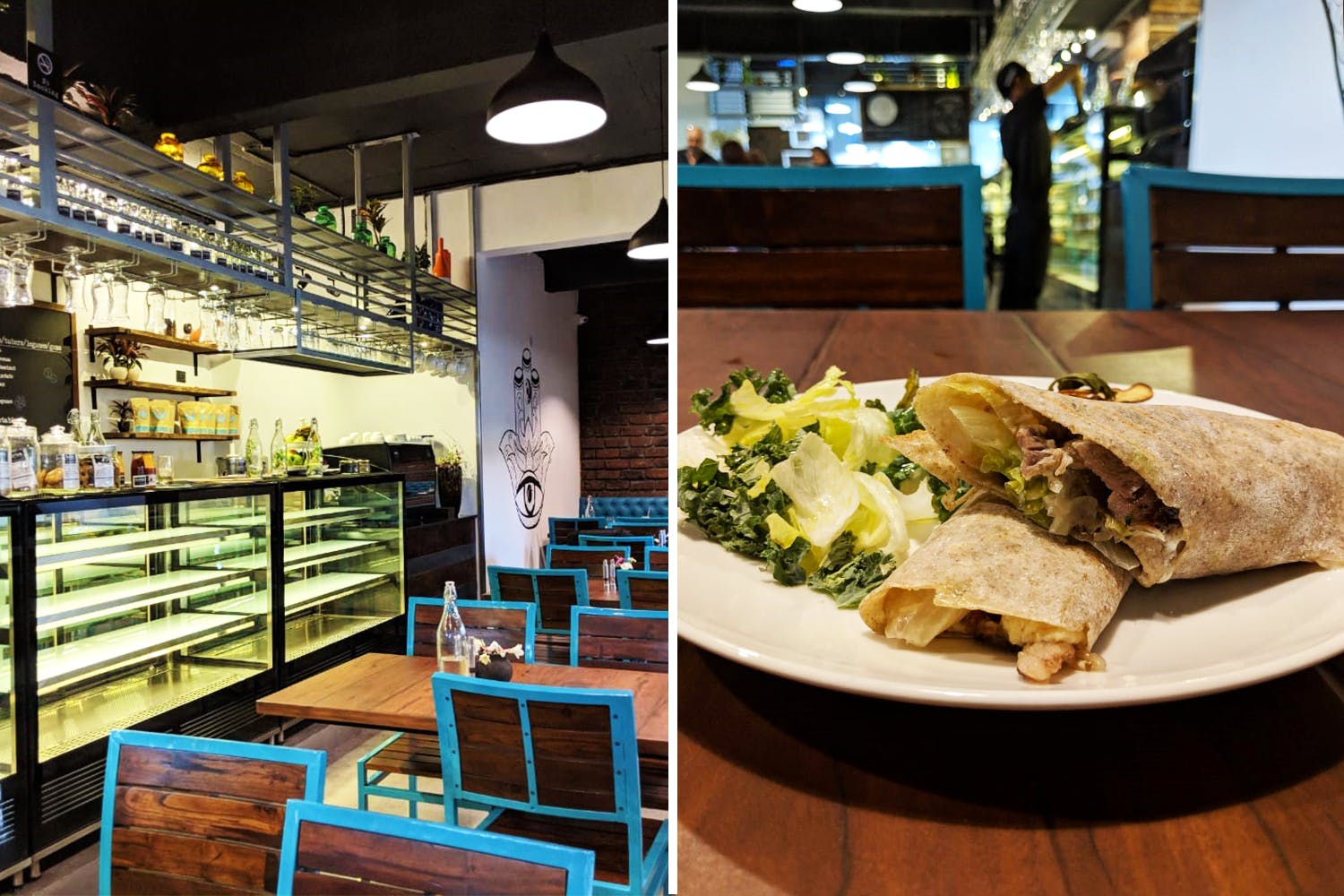 Yes, It's True: You Can Now Eat Guilt-Free Pizzas & Burgers At This New Eatery
Shortcut
Sorted Delicatessen is a new eatery opened in Kalyani Nagar, serving delicious food that's entirely grain-free, gluten-free, and refined sugar-free. It's music to our ears, and to anyone with dietary restrictions, food intolerance, or even those just looking to make a healthier lifestyle change!
Tell Me More
Sorted's menu is really extensive – and their fare includes plenty of options for carbs, meat, dairy, and of course – vegans, diabetics, and vegetarians. Started and run by Girish and Zarina Monie (also of TJ's Brew Works), we love the sleek-and-chic decor, glass-fronted display counters, and overall comfortable vibe at Sorted. Indoor and al fresco seating is available, but we picked the former – to be closer to their open-kitchen and pretty display counters. Sorted's 'meet our ingredients' board behind their counter caught our attention – as it lists all the ingredients used in their cooking here – so you know exactly what you're getting, upfront. The menu was developed through extensive research, experimentation, and painstaking detail by Girish and Chef Ubeid – and it's really paid off.
On the menu are breakfast items, soups, salads, sandwiches, burgers, pasta, mains, gluten-free 'Nudo' pizza, smoothies, juices, cold brew coffee, teas, and desserts. It's delicious food – sans maida, preservatives, chemicals, additives, and refined/processed ingredients. So, instead of wheat and rice, you'll find alternatives like buckwheat, quinoa, amaranth, etc. which are proven to be easier for the body to digest, and overall healthier for your lifestyle.
We ordered the lamb gyros in a buckwheat wrap and a 'coco brew' coffee. The buckwheat wrap held up surprisingly well, and the filling of tender lamb with hummus, feta, roast onions, and lettuce was super tasty. We also really enjoyed the cold-brewed coffee, made with coconut cream (instead of milk), and sweetened with a bit of honey (instead of refined sugar).
Food lovers (especially fussy ones) will be thrilled to find that there's no compromise on the quality of flavour; it's just food made with healthier substitutes than what we're commercially used to. On our next visit, we're looking forward to ordering their grain-free waffles, butter chicken, banoffee smoothie, and almond-cauliflower-whey base pepperoni pizza (which we hear is quite a hit).
Anything Else?
For those with food allergies (nuts, dairy, gluten), diabetes, and specific caloric requirements (for special diets like keto), will be relieved to know that each item has very clearly indicated symbols that denote their allergen content, as well as a breakdown of the calories, fats, proteins, carbs, fiber, and net carbs. Though Sorted's menu is primarily continental-European fare at the moment, Zarina tells us that they will be introducing more Indian cuisine by September. Sorted Delicatessen is located around the corner from Mariplex, in the lane opposite Marigold.
#LBBTip
Sorted also sells grain-free breads (almond and buckwheat varieties), buckwheat wraps, and amaranth-water chestnut pizza bases – which you can take home and experiment with. You can buy this off-the-counter, or place specific orders up to a day in advance. There is also a selection of meats and cheeses you can buy by weight, cookies, trail mix, and delectable desserts – like a vegan fruit tart, almond bread pudding, and their 'big fat chocolate cake' (to name a few).
Comments