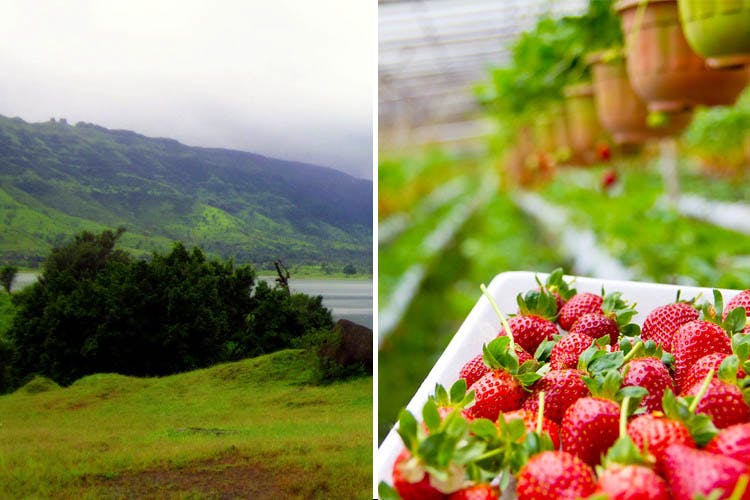 This Getaway Near Pune Has Over 100 Temples & A Winery
Shortcut
Take a small trip to the historic and culturally important village of Wai. It was a prominent town during the reign of the Peshwas. Located in the north of Satara, it's surrounded by the Sahyadris and is only a couple of hours away from Pune.
See How A Peshwa Lived
If you're in Wai, you have to walk through the corridors of Nana Phadnavis wada. Its construction was completed in 1780 and a lot of the wada remains in its original condition. It has six courtyards, two temples and a ghat that will lead you to the Krishna river.

Read Original Sanskrit Scripts & Vedas
Outside the famous Dholya Ganpati in a quaint corner is an unusual library, Prajna Pathashala, that hosts rare and original sanskrit texts dating as back as to the Rigveda era! If you're a history enthusiast, you can easily spend a couple of hours here, browse through the books and read.
Trek A Fort & Explore Caves
The mighty Pandavgad looks like a square fort and is said to have been built by Bhoja II of Panhala. Trekking to the fort is a bit difficult as steps in some places are only a foot wide. But climb away, because gorgeous views await. Head to the southeast projection and enter the Pandavgad caves. An arched entrance covered in mud and stones will lead you to a relic shrine.

Visit A Century Old Temple
A eight feet wide and 10 feet tall Ganpati, which is a must visit when in Wai. This temple is centuries old and also has a historic importance. There's also a small river flowing right besides the temple where you can take a dip if you know to swim as the river is surprisingly clean!
Explore An Art Village
A mere 30 minute drive away, visit the Devrai art village and spend a day. It's where local artists come together to create beautiful art, brass sculptures, rock dhokra and more. You can shop for these tribal art pieces, see artisans in action and soak yourself well into the tribal culture.
Shop For Fruit Wine
Strawberries grow in abundance in nearby Mahabaleshwar, so of course there's going to be some strawberry wine being made. Visit the Wild Berry Beverages winery in wine that makes Come On Charlie, an off-dry 100 per cent strawberry wine that's sweet, sour and delicious!
Comments