Thank you for visiting. Love discovering new brands? Discover 60,000+ brands on LBB
100% Pure and Natural Rosemary Essential Oil (15ml)
Free Shipping On All Orders Above 599
Why we <3 it
Rosemary

Anti-Bacterial, Anti-inflammatory, Stress Relieving

Natural, Cruelty-Free

100% Natural
Product Details
Product Type:
Face Serum & Oil
Formulation:
Oil
Weight:
15ml
Concern:
All Skin Type
Highlights:
Vedic Bloom 100% Pure & Natural Steam Distilled Rosemary Essential Oil is packed with amazing nutrients and can offer myriad of benefits skin, mind and body. The unique and natural ingredients of this oil don't just offer benefits for physical health but also work wonders for mental health. From relieving pain and aiding digestion to reducing anxiety, rosemary oil covers just about every base.
How to use:
- Add 1 drop to shampoo to promote scalp health and hair growth.
- Diffuse to enhance memory and to stimulate creative action.
- Dilute with almond oil to relieve achy joints ;Dilute with jojoba oil and apply on acne, wrinkles, scars and sun-damaged skin.
- Dilute with coconut oil and apply on stomach to aid digestion.
Ingredients:
100% Pure and Natural Rosemary Oil
Care:
Use proper dilution in case of use of Rosemary essential oil. Consult your healthcare provider if you are pregnant, nursing, taking medication or being treated for other health challenges. Do Not use this oil on children below 10 years of age. This oil is not intended for ingestion. Patch Test before use, Apply a diluted drop (1 drop EO & 1 drop carrier oil) to the area. Wait for 24 hours, if there is no reaction, then go ahead and use the oil as per the requirement.
Note: No return/exchange applicable
About the Brand
Vedic Bloom brings together benefits of Nature' traditions with contemporary thoughts. The purpose is to offer pragmatic beauty & wellness solutions which are well suited to the needs of today' generations. Vedic Bloom 100% pure and natural range of products are vegan and safe-to-use. All products undergo rigorous tests in labs before being deemed fit for sale and usage.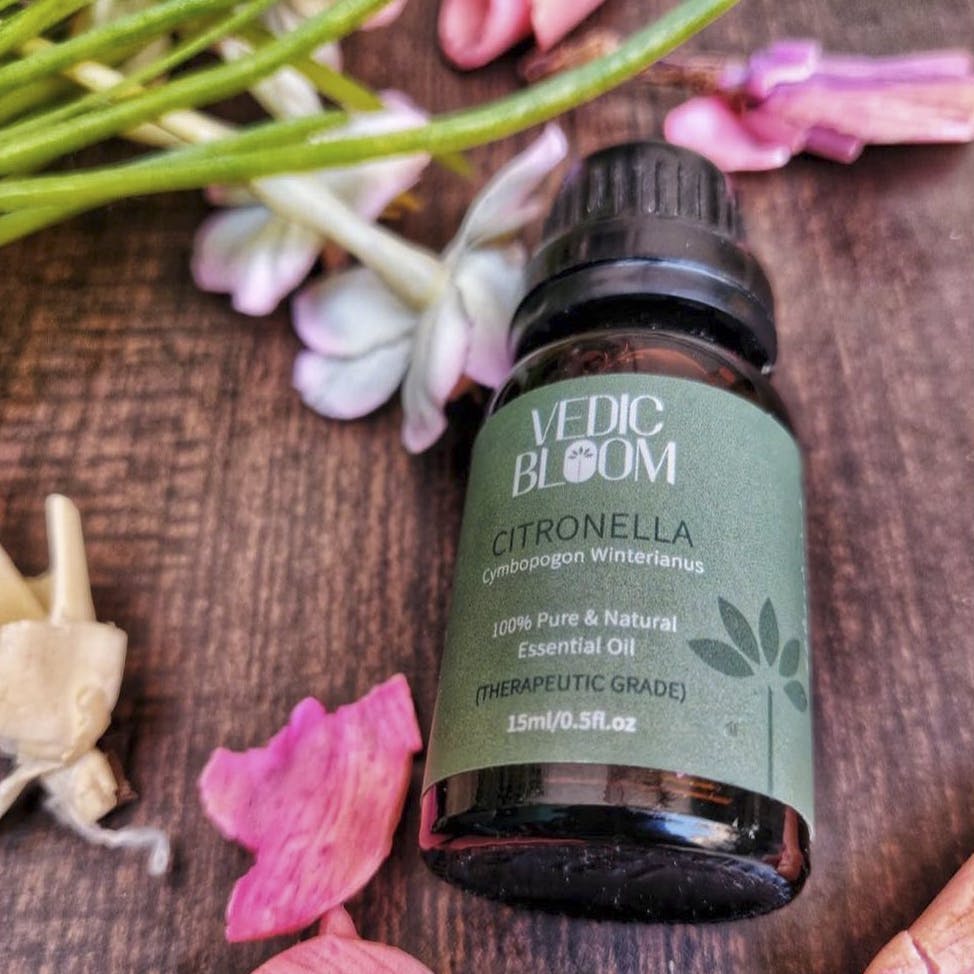 Massage, Diffuse, Relax, Refresh: This Brand Has Essential Oils For It All
By Ahalya Acharya