Thank you for visiting. Love discovering new brands? Discover 60,000+ brands on LBB
Deep Clean Hygienic Hand Wash (Pack of 2) 300ml
Free Shipping On All Orders Above 599
Product Details
Weight:
1 Kg
How to use:
Gentle rub it on wet hands surface to form lather to be spread thoroughly all over, then wash and rinse gently. 
Ingredients:
Ayouthveda Deep Clean Hygienic Hand wash deeply cleanse your hands, kills microbes fast providing protection against bacteria and viruses. It is one of its kind herbal hand wash which is completely free from sulphates and harsh chemicals, which never causes dryness. It delivers completely a unique experience with exclusive care to your hands. It's formulation is designed to fight against hundreds of disease causing germs and provides much better protection than any ordinary soap. It works effectively to minimize your risk of getting infection and benefit to improve your overall health. It is an exclusive herbal hand wash powered with the extracts derived from Garcinia pedunculata, Hemidesmus indicus, Glycyrrhiza glabra, Berberis aristata, Aloe vera and Acorus calamus that makes it more powerful against microbes like bacteria and viruses. It gives broad spectrum antimicrobial activity with minimal risk of generating resistance.NUTS: Grounded Almonds, Cashew & Pistachio enriched with natural antioxidants & Vitamins, exfoliates away lifeless skin cells in a soothing way to uncover radiant healthy-looking skin tone.
OLIVE OIL: Olive oil is a great asset for flawless skin. Rich in oleic acid, Vit E & Vit A, absorbs quickly yet allows the skin to breathe, transform parched sensitive skin into soft, supple & clean."Rose petals- the mesmerizing flower with the benefits of tannins and vitamin-C, removes impurities from our skin with hydrating effect. Green tea- the tea extracts have abundant vitamin- B and Vitamin- E, deals with closed pores, blackheads and whiteheads. Book Ref : *API?Bhavaprakasa †IP Other Ingredients: Myristic Acid, Glycerin, Cocoamidopropyl Betaine, Potassium Hydroxide, Stearic Acid, Propylene Glycol, Decyl glucoside, Lauric Acid, Ceteareth-20, polyoxyl 40 stearates, Glyceryl stearate, Sugandhit Dravya (Fragrance), Docosanol, Polyquaternium 7, PEG/PPG 120/10, Activated charcoal, EDTA.
Type:
Vegan
Care:
Keep in a cool dry place away from direct sunlight. Store in a cool dry place away from direct sunlight. Store between 15-30*c. Avoid freezing or heating above 40*c. Keep away from children.
Note: No Exchange & No Return
About the Brand
Ayouthveda makes & delivers extravagant personal care products that ensure excellent customer experience like never before. They passionately combine the traditional rituals with modern technology bringing Modern Ayurveda- Ayouthveda, to provide products of superior quality, free from harsh chemicals. Their products not just add cosmetic value in our customer lives but also ensures active therapeutic effect for predictable results.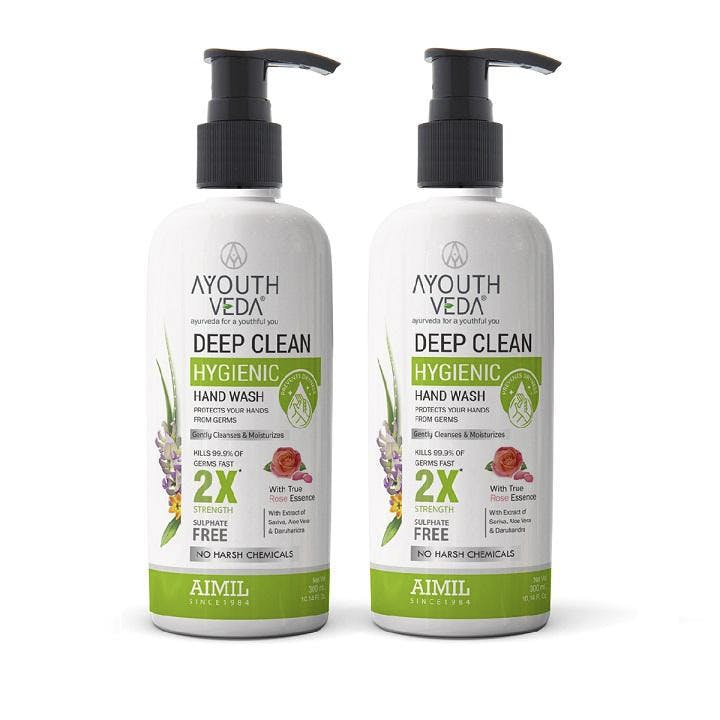 Personal Care, The Natural Way With This Ayurvedic Brand
By Nayantara Bose