Thank you for visiting. Love discovering new brands? Discover 60,000+ brands on LBB
Muladhara Chakra Bath Bomb - 100gm
Free Shipping On All Orders Above 599
Product Details
Formulation:
Bar
Weight:
100gm
Highlights:
Bath Bomb are a great way to enhance and enjoy a meditative bath. Just drop one in and soak up the benefits. They are filled with moisturizing and skin-nourishing oils. Chakra Bath Bombs are a great way to enhance your bath.
Use the Root Chakra Bath to release the stuck energy which are creating Root Chakra issues.
Root Chakra :- This is the first chakra situated at the base of our spine and supports the rest of the chakra system. It represents the element earth which is related to our survival instincts, as well as to our sense of grounding and connection to our bodies and the physical plane. This chakra brings us security, health, prosperity, and dynamic presence. In balance, we feel grounded, safe, secure, abundant & filled with vibrant well-being.
Health issues: Joint pain, lower backache, elimination problems, obesity, constipation, anorexia, and poor immune system function.
Issues related to the Muladhara Chakra
Fears and insecurities related to safety and survival.
Difficulties with 'grounding', staying present.
Disorientation, disorganization, indecision.
Lack of vitality.
Difficulty in dealing with the pressures of life as well fully manifesting creative ideas.
Bath Bomb are a great way to enhance and enjoy your bath. They are filled with moisturizing and skin-nourishing oils. Here are a few unique benefits of using a bath bomb daily.
A calm mind and uplift mood:
Good for skin: helps to clean, deodorize, strengthen blood vessels, and repair skin.
Fantastic experience: helps create luxury and opulence, leading to a joyful experience.
Aromatherapy benefits: A good bath bomb comes up with fantastic aromatherapy benefits.
Detox your skin and leave your bath feeling refreshed and renewed.
Ingredients:
Sodium bicarbonate, Citric acid, Olive Oil, Colour and 100% Essential Oil.
Inclusions:
1 Bath Bomb
Care:
Store in a cool dry place.
Note: No Exchange & Return
About the Brand
Sammini Soaps are handcrafted based on research and sciences of aromatherapy, colour and spiritual therapy. They are created for having a positive effect on your energy fields and the vibrations of your environment and are made with vegan and cruelty-free ingredients.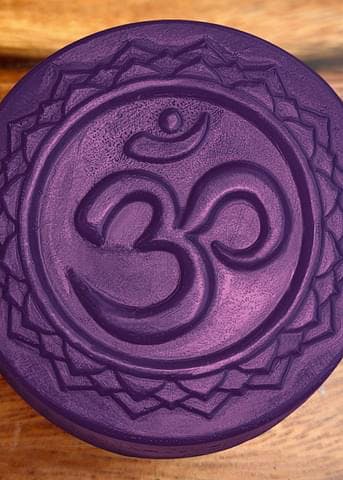 Good Vibes & Chakra Soaps: Cleanse Your Mind, Body & Soul With Sammini
By Chhavi Joshi