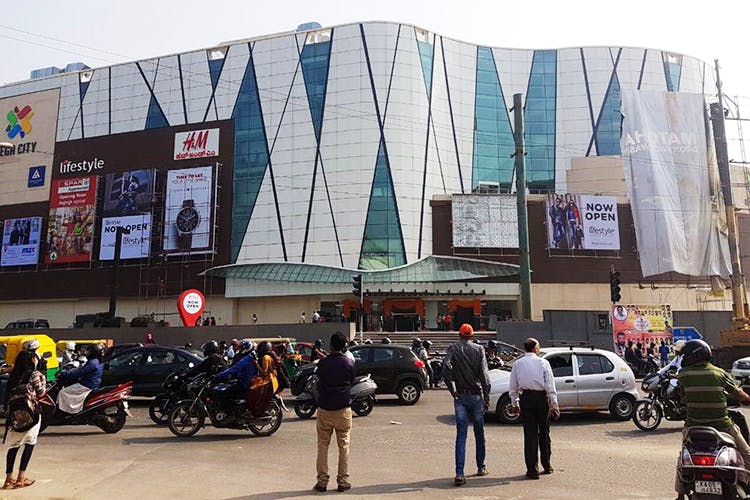 Sunday Markets, H&M And Bangalore's Biggest Multiplex: 5 Reasons Bannerghatta Is Hot And Happening
We usually grumble and moan at the very thought of making the trip to Bannerghatta, but on our recent visits to the area, we've come to realise that there's quite a lot happening here. It's not just the zoo that's worth checking out here anymore. As for the people put up in the area, there's no reason for you to leave the neighbourhood as the area's got some of the coolest spots in town. From fancy restaurant openings to a brand new mall, here's some of the reasons we're warming up to Bannerghatta.
Grasshopper: The Most Gorgeous Date Spot In Town
If you're looking to show your date the perfect evening out, head straight to Grasshopper where romance is in the air, all the time. The al fresco space is set in a sprawling farmhouse and is complete with candlelit tables, freshly cut flowers, and a lavish seven-course spread. Although it's just five minutes away from the main road, you'll feel far away from all that hustle and hullabaloo. The menu mainly comprises European dishes and the prawn with sesame, ginger and mango is a hit with us. Do pair your meal with a fine wine and don't forget to end on a sweet note with their dark chocolate ganache. You'll have to book your table in advance though. Read our full recommendation here.
Ragi Kana: A Regular Sunday Market
Every Sunday, Bannerghatta Road hosts a mini carnival of sorts at Ragi Kana. A cultural hub that hosts a rural market every Sunday, find everything from khadi clothing to groceries and local snacks here. Witness a few performances and discussions too. If you want to encourage sustainable living and shopping practices, this market is perfect for you as everything sold here is locally sourced. A celebration of the rural Karnataka way of life, it's a great place to escape our urban consumerist lives and go back to basics. Read more about the market here.
Vega City Mall
That's right. Bannerghatta's got a new mall, y'all! After being in the works for ages, Vega City has finally opened its doors to us and we're loving it. From a 12-screen multiplex, the biggest in the city, to an H&M outlet, we could spend hours here. No seriously, this place has it all. Shop at Fabindia, MAC, Forever New, Wildcraft, Vera Moda, Vans and even Toy 'R' Us here. And when the hunger pangs kick in, head to the spacious food court and have your fill.
Dog Park At Elephant Pond
If you love fluffy doggos as much as we do, you have to check out the Dog Park at Elephant Pond. The first of its kind, the private park lets our four-legged friends roam the area leash-free. Don't worry about dog fights, as the place is separated into two parts, to keep bigger dogs away from the tiny puppers. Although not technically in Bannerghatta, the Dog Park at Elephant Pond is not too far from the area. So drop in and pet as many furballs as you can. Read more here.
Chianti For Authentic Italian Food
Bannerghatta peeps! There's now a Chianti in your hood. For the uninitiated, Chianti is a restaurant that's bringing authentic Italian flavours to our tables. From lasagna to risottos, tuck into hearty Italian eats here. Don't miss the Pollo Al Repieni, which is a chicken breast stuffed with mozzarella, asparagus, sage and lamb chops. The ambience and decor stick to the themes of their older outlets, with dark wood tables and chairs and hanging exposed bulb lamps. So the next time your pizza and pasta cravings kick in, head on over here.
Comments