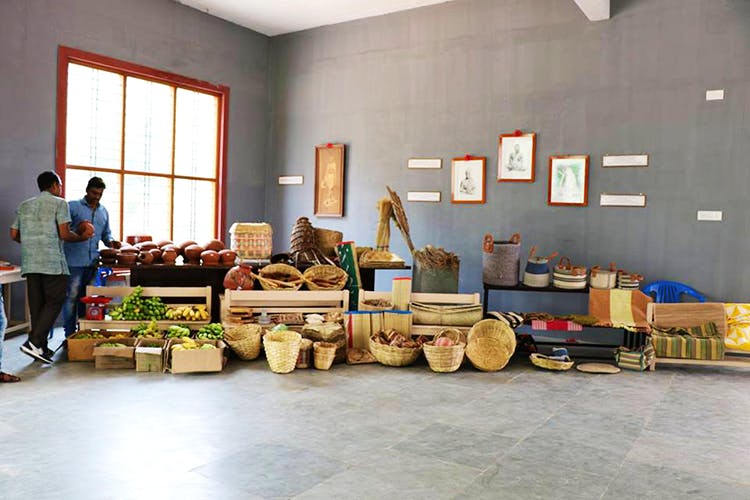 Bannerghatta Folks, Your Weekends Are Set With Ragi Kana, A Regular Sunday Market
Shortcut
Ragi Kana is a cultural hub that hosts a rural market every Sunday at a school on Bannerghatta Road. From khadi clothing to grocery and local snack, and performances and discussions, this is nothing short of a local carnival.
Who Is It For?
Anyone who cares about conscious living and wants to experience traditional Karnataka lifestyle. Also for those who want to make an effort in healthy living and appreciate the people who are helping us do so — from farmers to artisans. The farm tour and seed ball making will bring back childhood memories for adults and for kids it's a good experience that they miss out in our urban setup.
Must Buy
Men's kurtas and shirts from Desi, khadi sarees from Andhra Dastkar, Ilkal and Narayanpet handloom sarees. Staplessuch as millets,  grocery and cold pressed oils from Jivabhumi. Ragi laddoo, nippat, and millet huri hithu from Himadri Natural products. You can also tuck into millet bisi bele bath and bus saaru from Ragi Kana Cafeteria. I've been told by a Kannadiga friend that the food at the cafeteria is very authentic in taste and reminds her of village food.
How Was My Experience?
I cannot recommend Ragi Kana enough. My Sundays are set thanks to it being close by to where I stay. The location itself feels like a different environment with its greenery, pond, trees, play ground, cow shed. I have learned a lot about local food and how it's a better lifestyle change. It's a lovely experience interacting with the farmers directly even language doesn't feel much of a barrier. Buying from them directly, be it clothing or food is a feel good. Nice to see adults and kids enjoying the traditional games and toys. If you go to Himadri Natural Products stall you will end up buying every snack, he makes you taste them and it's just difficult to not buy such yummy food. Their discussions and demos are very informative.  
#LBBTip
If you want to buy farm fresh vegetables, you need to go early around 11:30 or so because they get sold out in no time.
Comments