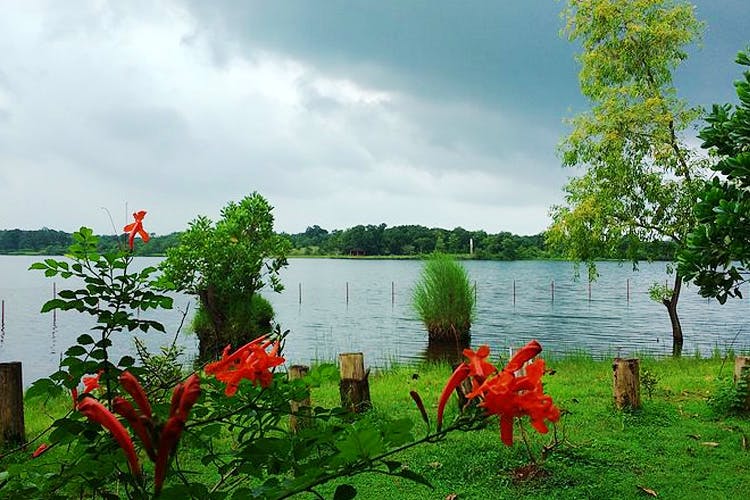 3 Days To Spare? Here's Our Top Picks Of Offbeat Destinations To Head To In Maharashtra
If you live in Mumbai, there's a good chance you're ready to escape the noise, pollution and traffic that's got us in its grip at the first chance. Here are some of our top picks to stage the great 3-day getaway to re-calibrate, unwind and enjoy some well deserved R & R.

Chiplun
Drive down 250 km to this small, green town on the foothills of the Konkan stretch, a quaint town full of heritage, tradition and history. Enjoy a picnic by the river, visit the Gowalkot Fort and Koyna Dam, take a dip in the Sawatsada Waterfalls, trek up to the Pandavaas Caves and enjoy beautiful sunsets. It's your perfect getaway from the city life, with nothing to remind you of the hustle-bustle that you're leaving behind. There are a lot of homestays and even farmhouses available in Chiplun where you can stay during your visit.
Karnala Bird Sanctuary
Fancy something offbeat this long weekend? How about camping in the hills, spending the day trekking and enjoying beautiful views, and ending the day with stargazing and BBQ dinners? With Big Red Tent, you can make your way to Karanala Bird Sanctuary, a beautiful break 2 hours away from Mumbai. The campsite is located 5 minutes away from a beautiful waterfall, and so is the Karnala Bird Sanctuary. Even the Karnal Fort is easily accessible.
If you do not wish to camp, there are options for homestays and resorts nearby as well.
National Parks & Wildlife Sanctuaries
Igatpuri
Located in the 'Wine Capital of India' Nashik, Igatpuri is a beautiful hill station surrounded by the Western Ghats, and lies at a distance of 120 km from Mumbai. Visit the Dhamma Giri Meditation Centre, Ghatandevi Temple or make a trip to Bhandardara near Nashik. There are also opportunities to camp and trek around the area. If you're looking for a break to indulge in luxury, check into H20 Serene, a villa that offers the best hospitality and breath-taking views of the landscape all around. They even have a swimming pool!

Kolad
Kolad is a village in the Raigad district of Maharashtra, and your break takes you to a land filled with cascading waterfalls, green pastures and lush mountains, hidden away from the world. In the recent past it has gained a lot of popularity for adventure sports, so if you're up for trekking into the wild or some river rafting, this is where you need to check in to. Other than that, the top attractions include Tamhini Ghat Waterfalls, Bhira Dam, Ghosala Fort and Tala Fort. You can also go fishing, bird watching and swimming.
There are a whole bunch of options for you to stay at. Kundalika Rafting Camp - Nature Trails Resorts comes highly recommended for those who wish to stay within nature, close to a range of fun adventure activities.
Murud
This weekend getaway is a huge hit among those who wish to check into a space filled with history, adventure and nature. The coastal village of Murud lies 150 km from Mumbai, and is a popular destination of choice thanks to the Murud-Janjira Fort. The forts massive walls and 19 bastions are impressive even today having stood the test of time. Other attractions here include the pristine Murud Beach, the Phansad Wildlife Sanctuary, the Kasa Fort and Ahmedganj Palace. The Golden Swan Beach Resort comes highly recommended if you're looking for a place to stay. They have options from individual villas to suites as well as deluxe rooms. Summer prices vary so do check ahead.
Karjat
Only 62 km from Mumbai, this one is a quick getaway to a green land filled with beautiful views and no city noise. Situated on the banks of the river Ulhas, this small town boasts of natural beauty, and is known for adventure sports and activities like river rafting, trekking, hiking and mountain climbing. Other attractions include a visit to Art Director Nitin Chandrakant Desai's ND Studio for movie buffs, and day trips to Bhor Ghat, Kondana Caves, Kothaligad and Chanderi Fort. There are some beautiful farmhouses and resorts to check in to. In fact, Karjat has one of the largest chain of farm houses in Asia! If you're in the mood for luxury, check out the properties at Saffron Stays.
Dahanu
The coastal town of Dahanu lies hidden from the eyes of the tourist, thus making it a perfect choice for those who wish to get away and disconnect. Known for a beautiful, clean beach, this makes for a perfect holiday to sit back and do absolutely nothing, just enjoying views of the sea, a good book and great company. Other interesting attractions include the Dahanu Fort, A Jain temple, Kalpataru Botanical Gardens and beautiful fruit orchards and coconut groves.
The Nest Farmstay is recommended for those who wish to enjoy a comfortable stay in beautiful, green chikoo orchards. They also offer a volunteer and bicycling stay where you can stay for INR 800 per day with 4-5 hours of work at the farm.
Comments