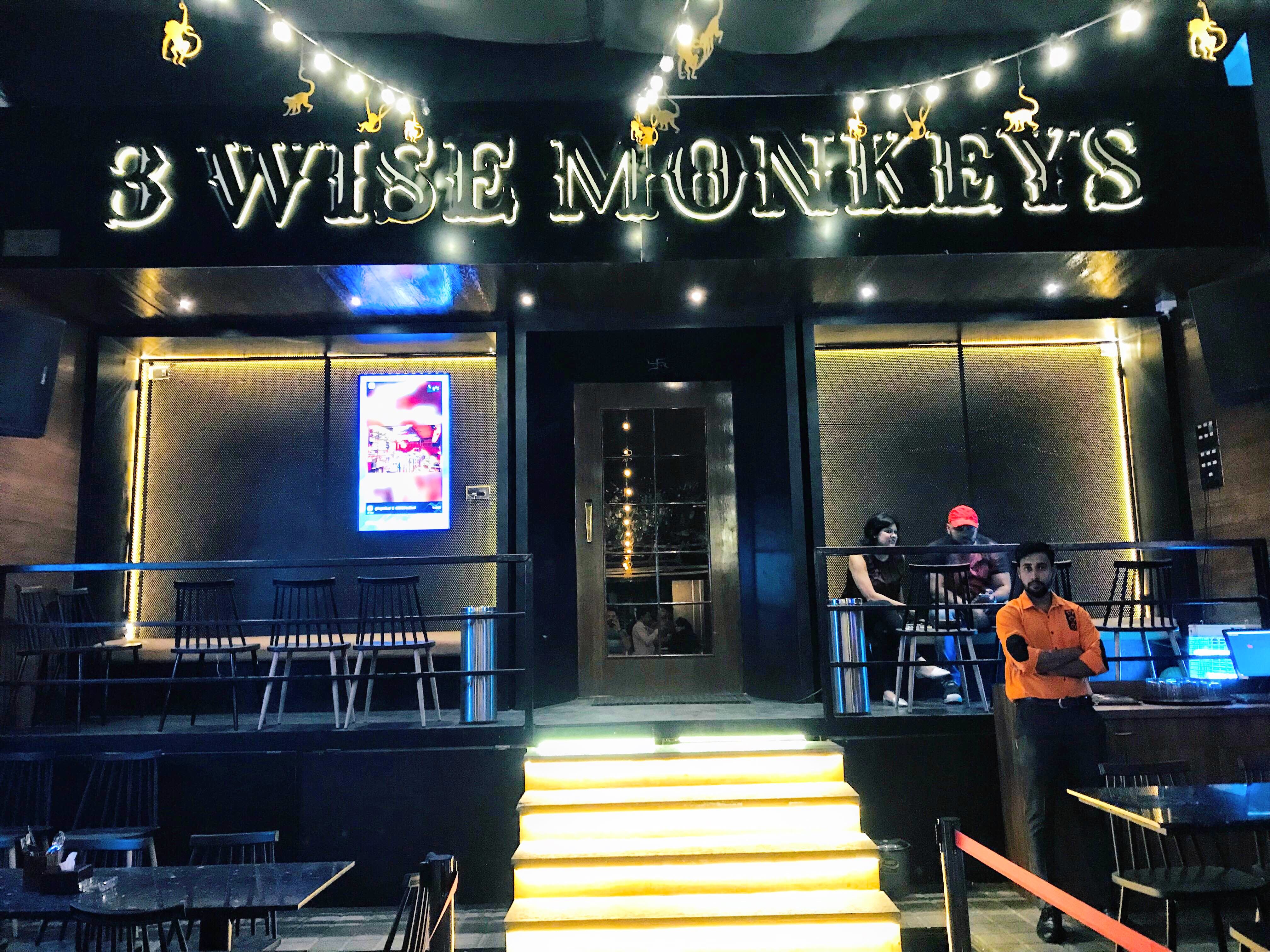 Nearest Metro Station:

Azad Nagar
Killer Food & Amazing Ambience, 3 Wise Monkeys Is A Great Addition To Andheri
What Makes It Awesome?
A name that can grasp your attention while scrolling through the menu, right? Yes, that is what happened to us. I thought of having a look at this place and seemed appealing to me at a glance. We thought of visiting it and we did. It is located in an area where a lot of other renowned names have their already successful establishments. The entrance is quite catchy and has a concierge available to greet and assist. There is an outside seating area of a capacity of approximately 20-25 persons and the section inside has much more space. You can hear music all day but managed actively by a DJ after 8 pm daily. They have a lot of events lined up for almost all days of the week. This is their second outlet, the first being an already victorious outlet at Khar. Drinks/Beverages: A lot of options confuses a person and I was one of them until I decided to order Dark Invaderberry Vanilla Shake which was a mixture of berries, pineapple juice and vanilla syrup. It was on the darker side in appearance, sugary in taste and blended well to mix the ingredients. In cocktails, I had to order something with Bourbon whiskey as the base which is my current favourite. Settled for Aquamarine Luxury Flutes which was a combination of Bourbon whisky, Russo, Campari, Cherry juice and Lime. I imagined it to be on a little sweeter side due to various contributing factors however lime and cherry stole the show. The cocktail was on the tangy side. We loved both drinks. They currently have offers on straight drinks like one plus one free, excluding the happy hours and other active offers. Food: We saw a unique way of serving the appetizer in the next dish we ordered. We ordered Pani Puri Paneer; It is a traditional pani-puri however instead of potato or peas they had extremely soft paneer in tandoori sauce, served in a stand similar to a candle/diya stand. It has 6 pieces set on each stand, it was filling enough as an appetizer. The next dish made us wait for 45 mins but it was worth it. We ordered Veg Feast Pizza With Cheese Burst. The waiter informed us beforehand that it would take approximately 45mins and the reason it would take that long. As it arrived, we did not find it that appealing until we grabbed a bite. You will feel the freshness of the dough and the cheese in the first bit itself. We wish we could finish it off but the quantity was more than enough. Desserts: We left a few bites of pizza because we wanted to try their desserts so they better be good. We thought of trying the Palak Halwa but we were a little too full to have it so we bet on Cherry Panna Cotta; the Italian dessert with a pinch of Indianism. It was a simple cold panna cotta topped with cherry puree. The combination was good but the dessert could have been better and best of all, we did not regret letting go of traces of Pizza. Other items ordered were Sizzling Brownie, Cheesy Eclairs & Malwani Chicken Lollipop. They can serve custom food along with the popular ones like Jain, Vegan and Keto diets. They have a lot of party packages at attractive rates. Just check them out once. I am sure you will save some bucks and be satisfied with the dine inexperience. Our table was managed by Dharmendra who was very professional and efficient. The manager Pandiyan was polite enough to answer a few questions we had about the outlet. The concept of 3 wise monkeys was through the three monkeys of Japan- Kizo, Mizo and Shizo. A restaurant opened by the Salian brothers 6 years ago is a success so far and it will go a long way. As mentioned earlier, they have music all day so lunches are also a good option here. The washrooms are clean, hygienic and well maintained. Overall a great addition to their existing chain, though being in a merciless area I am sure it will do well. Closure Cuisines served: Chinese, Thai, Italian Best for lovers of: Ambiance, Music, Live events, Offers Pros: Drinks Vegetarian options Recommendation: Dark Invader Aquamarine luxury flutes Veg Feast Pizza with cheese burst
What Could Be Better?
Cons: Too loud music at times Some dishes can be better
Comments
Nearest Metro Station:

Azad Nagar