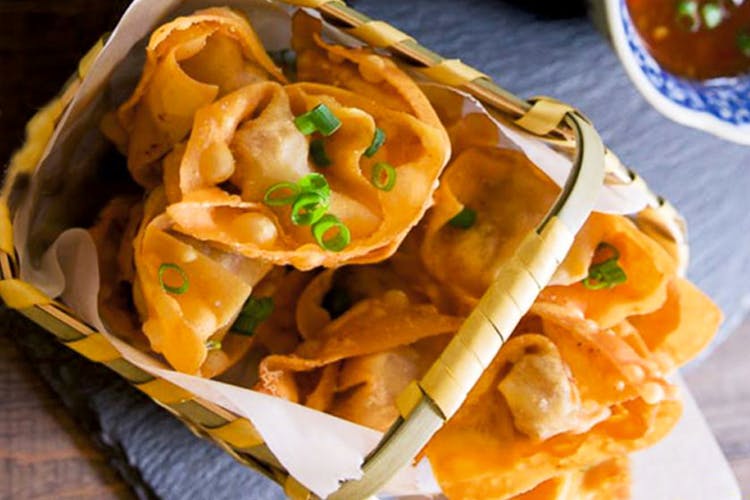 The Chicken Chettinad Curry From Kook In Chembur Is A Must-Have
Shortcut
Chembur East is home to small cafes so we decided to take a walk around – only to find a small joint called Kook.
What Is It?
An eatery that boasts of an outdoor seating area and a basement, Kook is located right besides Singh Saab, a popular North Indian restaurant. Its signage proudly says 'A/C family restaurant' and will make you think it's a conventional, laminated table top restaurant. Some may feel like that too, but it's refreshing. Why because, Chembur isn't really famous for it's eating scene. It's lined with tables outside that works perfectly fine for when the weather is fantastic. If not, plonk yourself in their basement
We really like their cute framed quotes, the umbrellas hung on the ceilings and the other decorations which keep Kook from looking like any other dhaba.
Chow Down
he food was delicious and the service, quick. We ordered the plum chilli cottage cheese was one the most well done dishes we've eaten at INR 250. The paneer wasn't soggy, too soft or made us want to borrow Thor's hammer. A bit on the sweeter side because of the plum sauce, it played perfect partner to the cheese wantons we ordered immediately after. As soon as we bit into one, there was a burst of cheesy goodness, coupled with notes of pepper.
The surprise was the blueberry cheesecake though. A little apprehensive to order it first, we mustered some courage and ordered it. It was soft, with blueberry compote smeared carefully on the top. At just INR 90, it was one of the best cheesecakes to have gone into our tummy, which was not from a fancy bakery.
But the must-have are their Indian dishes. Try their chicken Chettinad, which is the chef's speciality. The curry is creamy without being heavy, and the chicken is amazingly tender.
Sip On
You can choose from their range of mocktails starting at INR 150 per glass or have a pitcher starting at INR 300.
So, We're Saying...
Kook is your friendly neighbourhood joint that wont judge you if you turn up in shorts and chappals. It's that place you head to if you don't want to follow the routine of ordering in.
Comments