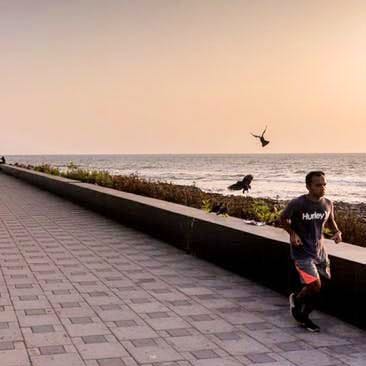 Pooja Dhingra's 5 Best Workout Spots In Bombay
Whether you're new to the game, or have been a fitness freak for years now - these 5 places will never fail you. From spacious and oh-so beautiful sea-facing views to barefoot-friendly tracks and Milind Soman's go-to jogging place (whattt?) - we've put together a list of places that'll make working out so much more fun:
Priyadarshini Park (PDP)
While copping the latest pair of sneakers might give you joy, let me remind you runner, barefoot running is catching up. Professional runners have long been vouching for barefoot running as it's easier on the knees and other joints and I finally tried it. You should give it a go at Priyadarshini Park (fondly called PDP). It's a top choice for SoBo runners with a 500 meter mud track as well as a 400 meter, 8-lane synthetic one. P.S. - It's also got a kickass fitness centre and the view of the sea makes the work out a hell lot easier. And the best part? No membership/entry fee required.
Hours: Open daily from 5 AM to 9 PM
Price: Free
Worli Seaface
While you burn those calories, gain some Vitamin Sea. The tranquility of the Worli Sea Face is exactly what you crave after an intense and long day at work. Skip the treadmill, and take a stroll instead. The sea now has an open gym that frequently hosts people pumping iron and enjoying a spectacular view on offer.

Pro-tip: RK Laxman's The Common Man statue stares into the sunset and makes for a great selfie for the gram!
Hours: 24 hours
Price: Free
Shivaji Park
My next workout reco literally needs no introduction: Shivaji Park is where Sachin Tendulkar learned how to play, where Milin Somand is rumoured to go for his barefoot runs (yes, go here at 3 AM & you might bump into him!). With a 2KM round track, it's the only age-irrelevant, 24*7 open workout place in Mumbai with the view as breezy as the sea. Plus, they have free WiFi.
Hours: 24 hours
Price: Free
Physique 57
If you follow me on Instagram, you know my obsession with Physique 57! It's a New York-based renowned fitness company that promises to transform your body in 57 minute workouts only. Bringing together effective elements of cardio, strength training and stretching - they promise visible results in just 8 classes! Plus, the whole place is super insta-worthy (including their locker rooms)!
Hours: Hours vary as per class
Price : Prices start at INR 2000 for a single session, a pack of 10 classes will set you back INR 17,500
6262 Fitness
This place swears by outdoor workouts and is slowly trying to shift mindsets from machine training to natural routines - their vision is to enhance Vitamin D intake, mental stimulation, agility, et al. So if you want to step up your fitness game, this spot in Prabhadevi is a must-visit.
Hours: Open till 10 PM daily. Sunday Closed
Price: Starts at INR 944 per session
Comments