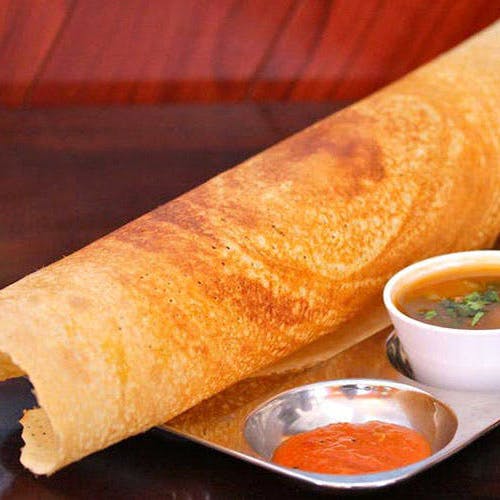 Satiate Your Soul: For The Best Street Side Dosas, Trust These Places
Craving for some generously stuffed street-side masala dosas? We've found you these six go-to dosa stalls that will teleport you to South India with its lip-smacking flavours.
Narayan Dosa, Gamdevi
With over 20 years of service in Grant Road's Gamdevi area, this dosa stall has been every college-goer's favorite. Narayan Dosa serves around 35 different varieties of this south Indian go-to snack, and their bestsellers include a palak cheese dosa, a chocolate paneer dosa (say whaaaat?!) and the regular schezwan dosa. What you must try without fail is the paneer chilli dosa for INR 110, and a their basic butter sada dosa for INR 40.
#LBBTip: Its a quick walk away from Wilson College.
Anand Stall, Vile Parle
This place needs no special mention but since we're always gaga over their food, we'd recommend it again. If you're loitering around Mithibai College in Vile Parle, make sure you get yourself some pizza dosa from Anand Stall. The perfect blend of cheese with spicy chutneys makes it very difficult to not drool. Get it for INR 170 and your lunch is sorted. You could also pick and choose from the 50 types of dosas they keep.
#LBBTip: Don't forget to gorge on their crunchy vada-pavs and perfectly grilled vegetable sandwiches.
Anna's Dosa, Sophia College Lane, Bhulabhai Desai Road
Every Sophia College girl reading this piece must be full of nostalgia right now. Anna's little dosa stall surprises us always. This man, fondly addressed as Anna, makes the best pav-bhaji style Mysore masala dosa for INR 80. The base of the dosa is crunchy, and is garnished with a hot and spicy red chutney. After a generous amount of filling is wrapped with the dosa, it is cut into two pieces, for you to be able to eat properly.
#LBBTip: Locate Anna outside Sophia College's main gate, till 6 PM in the evening.
Sai Swad Dosa, Ghatkopar East
Ghatkopar lanes are a foodie's delight. And this little stall selling the scrumptious Jini Dosa, is a crowd-magnet. They serve around 45 varieties of dosas and you must try the Maggi dosa for INR 160 and Manchurian dosa for INR 130. Known for being one of the legendary dosa-serving stalls, you shouldn't give this a miss if you're a true dosa fan!
Nandu Dosa, Juhu
Tucked inside the Chandan Cinema lane in Juhu, this dosa stall is known for its pav bhaji and chocolate dosa. You should also go for their Jini dosas, served with spicy condiments and chutneys. Students from Ritumbara College often take over the stall during lunchtime, and you can see the excitement on their faces while they're hogging dosas off. However, you must try their paneer makhani dosa for INR 150, and sweet corn dosa for INR 50.
Priyanka Fast Food, Nariman Point
The best part about their 34 varieties of dosas is that they're dirt cheap, but that doesn't take a toll on the quality. Where do you get a plate of paneer dosa for INR 35. Priyanka Fast Food is located behind the Air India Building in Nariman Point and is a mecca for the office-goers in the vicinity.
Babulnath Dosa Centre, Babulnath
Head to this place on a weekend and you'll spot a flock of dosa lovers eagerly waiting for their orders. Located right opposite a Jain temple in Babulnath, this place serves approximately 50 types of dosas including classic butter, maggi cheese, paneer chilli etc. While you must try the butter classic, do go their lip-smacking Chinese chopsy. The prices of their dosas start from INR 40 and go up to INR 100. Apart from dosas they even have chat, pizzas and barbeque rolls zone.
Nandu Dosa, Juhu
Right next to the Rutumbara college in Juhu, Nandu Dosa is always packed with students. Apart from the 50 dosas they offer, this dosa eatery has a special dosa menu for which comprises of 20 other types of dosas. They are popularly known for their delicious gini dosas which come in different ingredients and flavours.

Comments