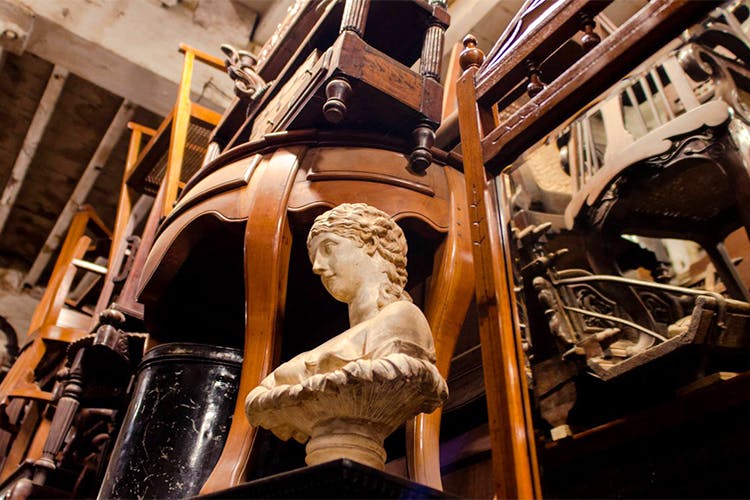 Cupboards, Chairs, Trunks & More: 5 Shops To Buy Antique Furniture From
Being surrounded by period furniture from an era gone by is probably one of the best feelings one can get. You're immediately transported to a time that is both sacred and bewitching, as you run your fingers through the fine craftsmanship that defines that time period. Going by that, we've decided to share some interesting stores in the city to help you build your collection.
Phillips Antiques
Located in Colaba and Wadala, this is probably one of the oldest antique stores that Mumbai has to offer. Opened in 1860, it's a family-owned store that sells artefacts and colonial furniture that have been restored lovingly. They also sell antique maps, tribal and folk art, silver, lacquer, Oriental & European porcelain & pottery, hanging lamps and Art Deco furniture. The Wadala store is where you will find antique furniture.
The pricing starts at INR 45,000 and depends on what you select. Check them out here.
Moorthy's
This warehouse in Tardeo is filled with colonial furniture and ethnic artefacts from top to bottom, so you'll really have to hunt if you've got something specific in mind.
Their furniture includes tables, beds, chairs, boxes & chests, chest of drawers, frames, cupboards & showcases, side boards, benches and sofa sets. They also stock ethnic artefacts, textiles, lightings, porcelain & ceramic ware, paintings and jewellery.
They will only tell you how much it costs once you enquire about a particular piece, but you can check out what they have here.
Mahendra Doshi Antiques
Established in 1974, there are two warehouses, once in Wadala and the other in Walkeshwar, that house antiques that are carefully restored, from wooden cabinets to garden urns and even cane diwans.
A large part of Mahendra Doshi's space is dedicated to the original un restored furniture pieces from the colonies of the British, Dutch, French and the Portuguese. The styles are various from the Victorian, Gothic, Regency, Rococo moving into Art Deco and pre-modern retro furniture.
They start at INR 50,000. Check them out here.
MD Khalid Farid Khan
This store is located in Oshiwara furniture market and sells antique and reproduced furniture. What's great is that they are in a single lane, so it's easy if you're planning to get some big pieces back home by car. Khalid Farid Khan store houses art deco and even Scandinavian furniture that are sure to entice you into a purchase. You'll find row upon row of antiques, from tables and chairs to even display units with antique handles.
Antique chairs start from INR 4,000 and book shelves start at INR 30,000. Be prepared to bargain to get a good deal.
Call: 09870239952
Anemos
Anemos in Raghuvanshi Mills is a jewel of a find because when you enter, you'll see a store full of knick knacks like fans, gramophones and such. But if you ask them to show you some antiques, they will take you upstairs, and here, you'll find yourself lost in a maze full of beautiful furniture sure to take your breath away. You'll find book shelves, side tables, beds, side boards and so much more.
Their furniture rates begin at INR 40,000. Take at look at them here.
Comments