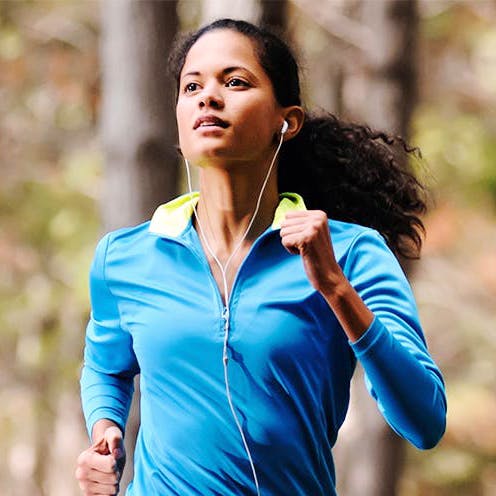 Tune In, Zone Out: Five Apps To Download For The Perfect Workout Soundtrack
Hate the idea of hearing the sound of your own breath while running? Or the chatter of early morning gossip girls (aunties)? We found you these awesome apps that'll let you zone out from the noise.
Rock My Run
Rock My Run has curated playlists from professional DJs like David Guetta, Major Lazer and Zedd, who have put together music according to the BPM, genre and the kind of activity you're doing at the time. You can also track your workout and yes, the app is compatible with watches (apple and android). Each and every playlist in the app is specially selected and seamlessly blended together, delivering a unique work out experience.
Spring Moves
Called a 'Pandora meets Fitbit' online, Spring Moves is awesome because it matches the music to your rhythm. Prefer to jog slow or rage while running? They'll tailor a personalised playlist as per taste and rhythm and help you reach your fitness goal.
Get it on iOS here.
FIT Radio
Do you spend more time looking for a good song than you do focusing on your workout? FIT Radio is your solution.
Declaring themselves as 'World's No 1 workout music app' FIT Radio has everything in one place. From a curated playlist and over 10K mixes to your workout map, it'll all be there on your screen. Also, when you sign up, you can sample up to 3 hours of premium, on them.
Runtastic
Runtastic tracks your workout, speed, pace and has an awesome added feature. Called 'Running Story' – a combination of music and an audio book. One you put on your headphones, you'll hear a story that's designed to get you motivated, streamlined to music that will get you going. With every story lasting 35 minutes, it downloads directly to your device so you can listen without streaming.
Cruise Control
Part coach and a part dance partner, this app is sure to rock your running and jogging experience. The app adjusts the music in real time to control your running. Imagine your favourite band running with you and with their every beat helping you run faster and further. Thus, helping you achieve the right running targets. The app's been developed after a number of experiments and control theories, effectively using algorithms to control your running.
Get it on IOS
here
.
Pace DJ
With a song database of a whopping 35 million songs and 2.8 million artists, this app even lets you use the songs you've saved in your iTunes library so that you have complete control over your playlists. The app also modifies your BPM - speeds up and slows down - to match your running pace. It's simple to set up the app. Tell the app something about yourself. Are you using it for walking, running or cycling? Are you running slow, moderate or fast? And, they'll curate a perfect playlist which best suits your need.

Get it on IOS here.

Comments