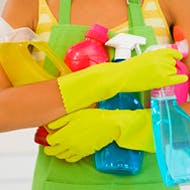 Tired Of Coming To A Messy Home? Getting Clean & Organised Is Just A Button Away
Indians homes can get messy. Lack of space, limited storage and busy schedules of working professionals only makes the problem worse. However, as they say, in today's digital world technology is the answer to everything. Today, there are tons of applications which help with better organizing and cleaning, set schedules for daily chores and help de-cluttered simply with a touch of a button.

Here are a few apps which will help transform your home into a cluttered and an organised space.
HouseJoy
If you're a looking for deep cleaning, their service is for you. From bathroom deep cleaning to fabric sofa shampooing - these guys offer a variety of efficient and quick home service. They even have an all inclusive Full Home Deep Cleaning which includes bathroom, kitchen, general cleaning balcony area, ceiling fan etc. However, if you're looking for specific areas they have services for only bathroom, kitchen or floors as well. The price of their services start from INR 800 and upwards.

What we love: Well-equipped with trained and professional staff, easy and user friendly interface, quick service, usage of eco-friendly products.

Available on: IOS and Andriod
Our Home
Are responsibilities equally divided in your family, with minimum help from the staff? Well, this app is here to make your life simpler, organised and better. Think of it like a checklist of all the tasks of all family members in one place. Once you fill in your family details, you start assigning responsibilities. For instance, Member A - laundry for the week; Member B - shopping for groceries; Member C - cleaning the living room etc.

Apart from scheduling daily chores, one can also set personal reminders like walk timings, music practice, walk the dog etc.

What we love: Rewards points to members for maximising encouragement, easy to set schedules and reminders, visually appealing interface with emojis.

Available on: IOS
Toss
This one's for the hoarders.

Even if you don't notice, there's a lot in your home that adds to the mess and cluttering. Newpapers, letters, keys, clothes etc. This app help you toss stuff that simply not needed. Toss, which stands for Time, Organisation, Simplicity and Serenity is another great app to clear your daily clutter and mess. It's all about encouraging minimalising and tossing unwanted stuff. The app will track the number of items you toss on daily basis. From unused utensils to old power cords.

What we love: In-build motivation quotes, constant reminders.

Available on: Android
Chorganizer
This app is suitable for those either living alone and are lazy at doing their daily chores. So, chorganizer is here to help you keep your chores organised. Here'show it works. Simply add your daily chores - like mopping, vacuum, laundry, cleaning utensils etc - and enter details like 'when, where and what'. Depending on the details you've filled in, the app will prioritize your chores and list it accordingly. And once done with the chore, simply check it off and it will move down on your list.

What we love: Colour coordination and cute icons (different colour and icon for each chore), really really simple to use.

Available on: IOS and Android
Timesaverz
Another useful app which helps connecting home owners with house cleaning staff. We'd suggest go for their services if there's a special occasion like weddings or festivals like Diwali or Ganpati coming up. It will save you a lot of hard work and time. This app will help you with curated home services ranging from cleaning to repairs and from pest control to home interiors. The price range of their services start from INR 800.

What we love: service within 24 hours, trained servicemen, hassle free returns for any unsatisfied service.

Available on: IOS and Android

Comments