The information in this post might be outdated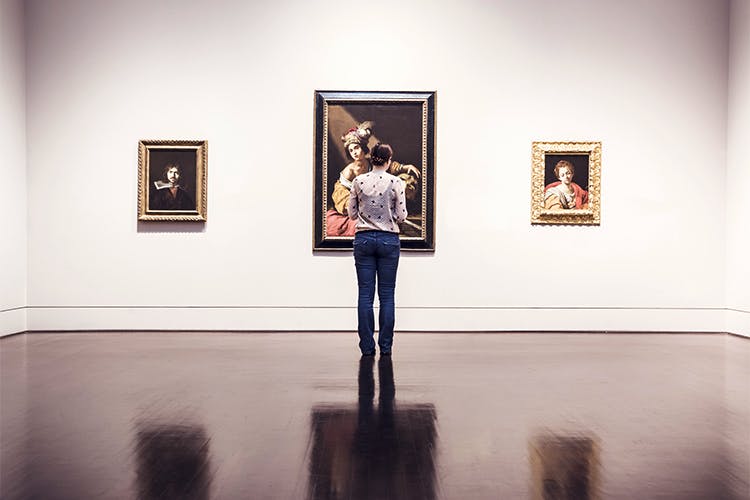 Check Out Mumbai's Most Instagram And Snapchat-Friendly Art Galleries
Ten-Second Takeaway
Art galleries are really fun to explore – they showcase quirky artwork, you spend a beautiful day indoors and often get to meet the artists as well. Galleries are usually not very phone and camera-friendly, but we found a few that are cool with it. Check out the galleries in Mumbai that you can Instagram your way through and where you can take photos with your phones to get those #CultureGoals.
#LBBTip: We all love posting stuff on social media but do be sensitive about the art space you're in, and of the artist's sensibilities.
Chemould Prescott Road Gallery
Tarq
Tarq, started by Hena Kapadia, is a beautiful space for catching some lovely Indian art. You can see traditional as well as contemporary Indian art which is curated here for patrons to come and browse through. It's a beautiful space to spend a lazy afternoon in, whilst appreciating our Indian artists.
Volte
Volte is probably one of the most daring art galleries in town – with its multimedia installations, exhibitions and artwork that goes beyond the usual. They often curate art via the medium of videos and Ranbir Kaleka, Wim Delvoye all have been showcased here.
Dr. Bhau Daji Lad Museum
One of those people who like museums. Such a perfect sunday #vscocam
A post shared by Anushka tendolkar (@anushkatee) on Jan 10, 2016 at 10:14am PST
One of our favourites in SoBo, this museum is gorgeous, with its beautiful ceiling, galleries to stroll in and the fact that it has been here for decades. A must-visit for anyone who wants immerse themselves into the history of Mumbai. You can easily spend a day and still not completely cover all of the museum but we do have a guide that'll come handy.
Galerie Mirchandani + Steinruecke
Art gallery hopping with @lailavaziralli #sixdown #tanyagoel
A post shared by Tosha Jagad (@toshajagad) on Feb 10, 2016 at 9:30am PST
A space in SoBo which exceptionally huge, airy and gets  a lot of natural light, it's a beautiful gallery to spend your time in. It has a very Berlinesque feel to it and showcases local and international artists alike like Woolfgang Laib, Gieve Patel and more. Go here to catch some exciting and classic art.
Comments