The information in this post might be outdated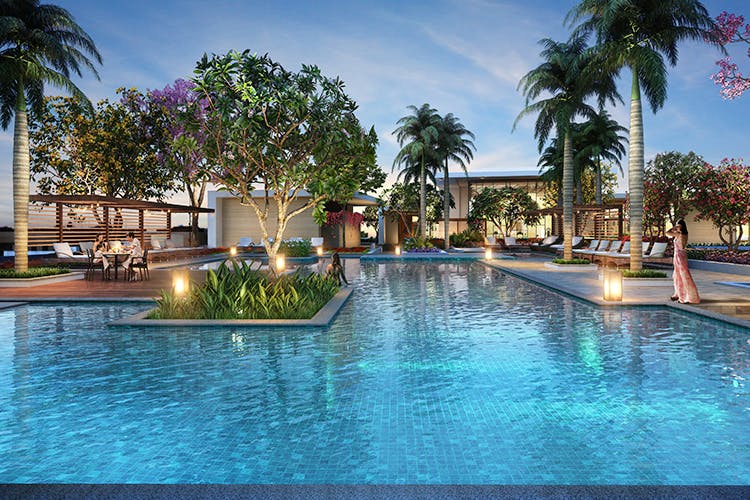 Asia's Highest Residential Infinity Pool, Party Decks & More: This Might Be Your Dream Home
Shortcut
Curious about what it feels to live like royalty? With world-class amenities and zen vibes, Raheja Imperia 1 is bringing new meaning to the term 'luxury living'. Keep reading to find out what dream homes are really made of.
Reaching For The Skies
A place like this isn't easy to find unless you've done something right. We mean, you can touch the clouds (at least pretend to). This 60 storey-ed architectural beauty will make you feel like you're living right out of New York City's finest area—Upper East Side (remember Gossip Girl?). We can talk about their ample parking space, breathtaking view of the ocean or mind-blowing rooftops perfect for the Bombay rains, but all we really need is some privacy to enjoy all this with our peeps. Tranquil settings with a lot of privacy surrounded by state-of-world interiors and exteriors are what you'll get here and it's what sets this place apart from the rest.

Asgardian Lifestyle
If you have ever watched any of the Thor movies, you'll know what this means. If not, then one look at this place and you'll find out. Day off? Relax at Aeon—Asia's highest residential infinity pool set on a layered terrace forming a distinctive aqua coloured hues set against the blue skyline. Head to the rooftop deck—Atmosphere to entertain your guests with interesting concoctions and an unparalleled view of the city. If sudden Bombay rains have forced you to cancel your movie plans or match screenings, simply head upstairs with your gang to Luna, the Sky Media Zone for that one-of-a-kind viewing experience.
Anything Else?
This place gives a new meaning to enjoying the simple pleasures in life. Right from grabbing a tiny bite at their intimate little eatery Cafe Laguna while taking a stroll in the Imperial Park to burning off those calories at their world-class gym Club Imperia—they are all set to entice you for a lifetime. So when you can head home for that royal treatment, why head anywhere else?
Comments