Do You Dare? A New Pizza In Mumbai Is Set On Fire Before It's Served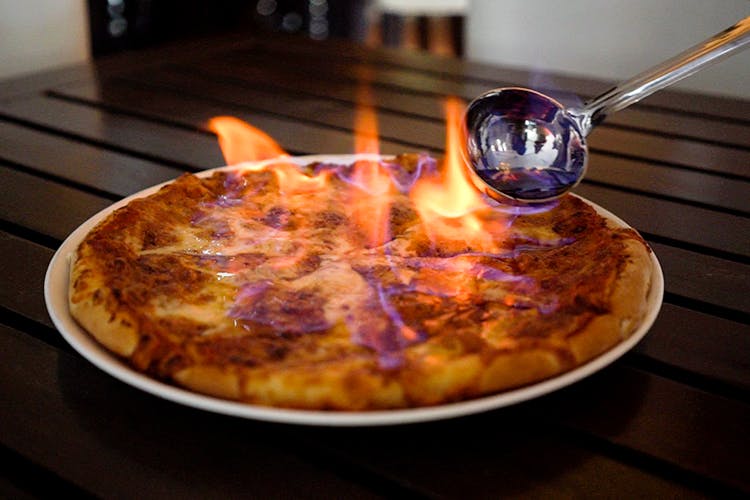 Shortcut
Pizza By The Bay has just upped their pizza game, and has begun serving flambe pizza.
Blazin'

On a new menu put out by everyone's fave original Talk Of The Town, now Pizza By The Bay, one of the most exciting things is the pizza on fire. No, this isn't an emergency or a call for action – these are literally pizzas to which heated alcohol is poured over and spread. These flames and burnt alcohol add a delicious smokey flavour to the pizza and even a flavour of alcohol – boozy pizza, anyone?
Either rum, brandy, vodka or gin are chosen according to the pizza. The pizzas for this are the flaming margherita, a classic magherita with vodka flambe, a BBQ chicken one which leads to a burnt, smokey chicken flavour and a seafood one. Although there are specific combations, we requested for the classic Bombay Masala with flambe and it just made the classic pizza even better. These are priced between INR 1,150 and 1,250 for the 12 inch pizza.

What Else Is New?
They've added a new healthy nine-grain crust, which, to be fair, tastes as delicious as the other ones and hence, we don't mind being healthy this time. There's also a pizza insalata which a caeser salad added to grilled veggies on a pizza.
So, We're Saying...
Like theatrics and a little flavour of alcohol in your food? You'll definitely love this pizza. It's extremely unique, and makes for a delicious feast for your eyes and your stomach.
Comments