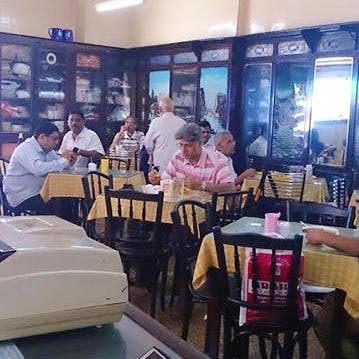 A Foodie's Guide To Nom Nom Heaven: Awesome Restaurants In Fort To Try Out
Mumbai's Fort area has a lot to offer when it comes to food options. Catering to office goers, tourists and foodies alike, the area is known for possessing some of the best gems the city has too offer.

Here's a list of some of our favourites for you to try out.
Britannia & Company Restaurant
Bustling with waves of Mumbaikars, this Iranian restaurant needs no introduction. Open only for lunch, it's famous for its Beri Pulao dish (rice with chicken and Iranian berries) but it tantalises the taste buds with all its offerings like dhansak, salli boti, patrani ni machi and its mouth-watering caramel custard.

Price: INR 1,000 for two

Read more about this iconic restaurant here.
Burma Burma
One of the only restaurants to dedicate itself to authentic Burmese cuisine, its interiors is sure to transport you to Burma with prayer wheels and parasols. It also boasts of a tea bar. Don't forget to sample their Khau Suey, samosa soup and their lemongrass cooler.
Price: 1,500 INR for two
Jimmy Boy
If you're looking for authentic Parsi cuisine, Jimmy Boy's the place to be. From mutton samosas to kheema pao, this place will lift up your spirits and leave you satiated. Don't forget to ask them for the famous raspberry soda!
Price: INR 800 for two
Mamagoto
This bright pop of colour is a sight for sore eyes with its fun décor. Mamagoto means 'to play with food' and the restaurant does just that. Serving some of the most delicious oriental food, don't miss out on the black bean jam and prawn crackers. Mamagoto has got all the elements together perfectly. Whether it's their food, the ambience or the service - everything is bang on! There are plenty of cuisine options which are sure to suit everyone's palate. They serve Thai, Burmese, Chinese, and Japanese cuisine.
Price: 1,500 INR for two
Ideal Corner
We had heard very good things, so we excused ourselves from office one day to head to Ideal Corner, a small joint in Fort selling delicious, fresh and affordable Parsi food. It serves the usual Parsi bhonu along with some vegetarian options as well. It's a great place for a snack, like some chicken pattice. Yum.
Price: INR 450 for two
Khyber
With its Mughal-style interiors, exposed brick work and regal ambience, Khyber is known for its delicious Mughlai and North Indian cuisine options. The menu features tender kebabs, rich curries and lots of tandoori favourites.
Price: INR 2,600 for two
Café Military
This quaint Parsi café with antique wooden panels and bentwood chairs hasn't changed much since it was started, over 80 years back. From attempting to cater to the Army and Navy (hence, its name) to currently catering to the bankers and the lawyers of Fort area, this café serves a delectable number of Parsi dishes like dhansak, kheema pao and mutton samosas. Top it with their delicious caramel custard.
Price: INR 400 for two
The Pantry
If you're looking for vegan options in Fort, The Pantry is serving some delicious vegan and healthy options. From Quinoa bhel to date pancakes, this restaurant is serving Gujarati food with a modern and a healthy twist. If you're hitting up this place for breakfast, do try their delicious hot chocolate and vegan pizza.

Price: INR 1,400 for two
Paratha Mantra
Ever wondered why no one ever came up with a deadly combination of a pizza and a parantha? Well, someone did and boy, are we excited or what? Paratha Mantra at Fort excels in serving unique paranthas made with some totally bizarre combinations. Paratha Mantra's USP lies in serving our favourite desi food albeit with a twist a.k.a. fusion paranthas.

Price: INR 900 for two
Bademiya
One of the most well known and popular joints for kebabs, rolls and signature tawa delicacies, Bademiya should be your go-to place for late night cravings. Or, if you're looking for some authentic Mughlai and North Indian cuisine. Their must try: seekh kebab, rumali roti and biryani.

Price: INR 900 for two
Royal China
Royal China has always been an enigma for most of us. For those of you who have paid it a visit, you know that this place just can't go wrong. Regulars have a list of favourites that hasn't changed over time, like, the flaming chicken, or their prawn sesame toast. Heck, you can't do without the tea or even sampling their mud cake. Save this for a special occasion, because, they sure make you feel special.
Psst: They have an awesome dim sum lunch special menu that you must try.
Price: INR 2,500 for two
Comments