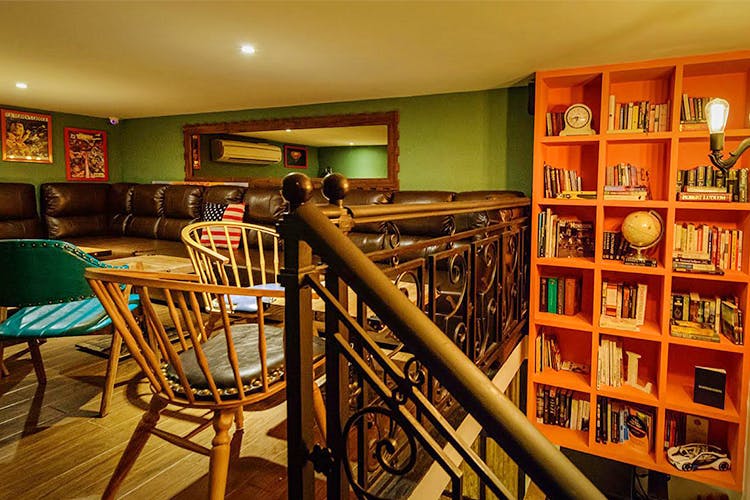 This Bandra Bar Is Also A Co-Working Space, A Library And A Gaming Centre
Shortcut
Bandra Reclamation saw the opening of Door No. 1 last year and here's why you should skip your regular place and head here instead.
What Is It?
Situated in the happening Doolally lane, Door No. 1 is a retro, R&B themed bar cum working space cum games parlour of sorts. Yes, it's an all-in-one sort of a deal. The owners prefer to call it home because here, you can be at ease, without putting on the pretense of fanciness.
Not very big when it comes to size but charming nonetheless, Door No. 1 has three sections – the bar and eatery, a small mezzanine where a PlayStation is stationed along with books and the area below has a meeting room. A retro bar, it has a good music selection and surprisingly you can talk despite the music playing in the background. One of those places you can go for first dates, we say. Not too big on drinking and dancing the night away? Order a coffee and enjoy a day working out of here with free wifi and access to the meeting room and the PlayStation area.
Chow Down
Not sticking to one particular cuisine, the concept bends more towards fusion. There was Bhav Nagar chilli filled with cheese and served with papad, Bacon flatbread and tawa fried fish that stood out.
Sip On
They serve cocktails and we got the chance to try out their lemongrass margarita, spicy whiskey, hot toddy and Peace Within. The winners were the lemongrass margarita with the right amount of vodka and that tinge of lemongrass and the spicy whiskey, laced with cinnamon and other spices. Their cranberry and vodka laced with blueberry was a little too sweet for our taste buds.
LBBTip
Their restroom signs are a bit confusing, be cautious before you slide that door.
Comments