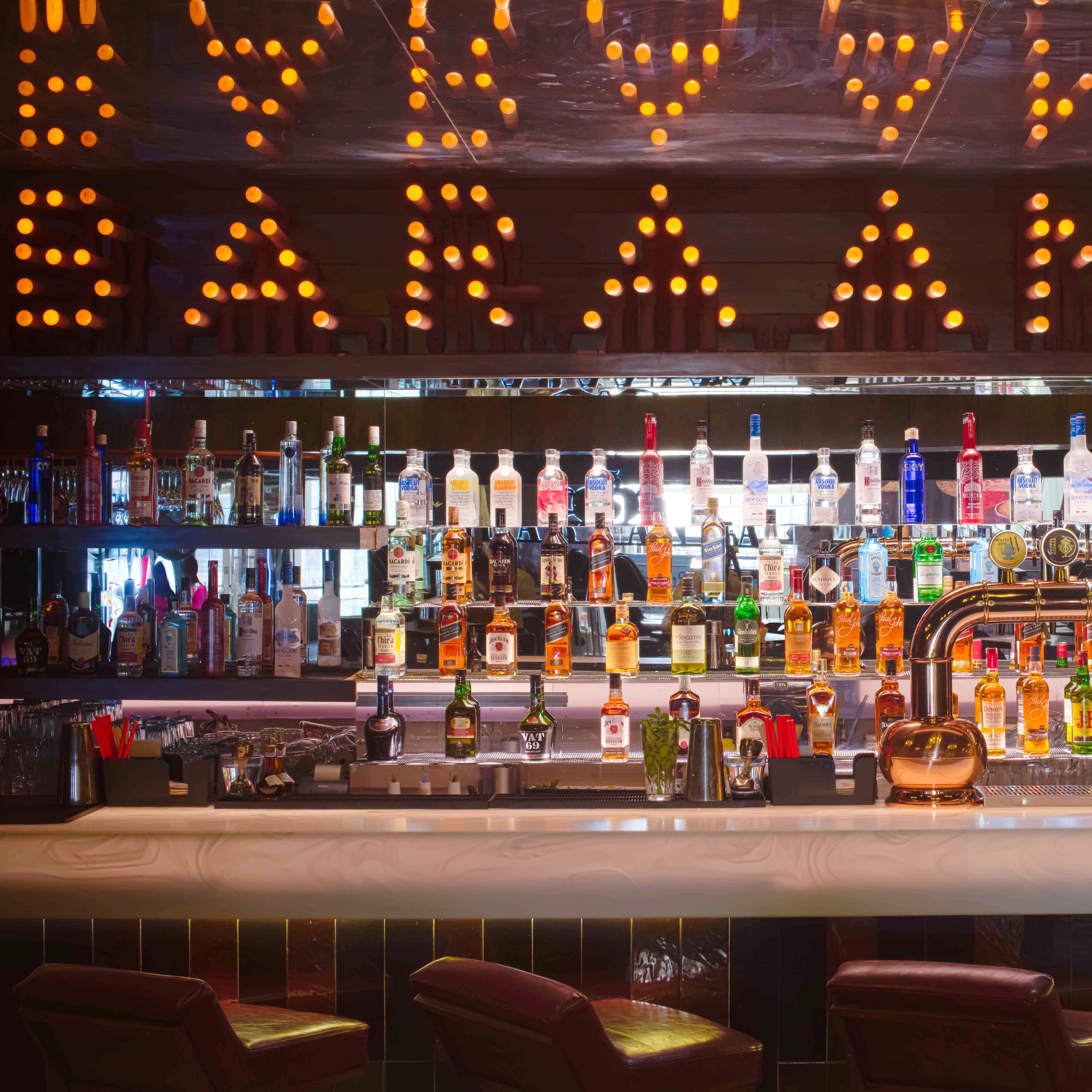 Born To Rum: Baraanaa's The Ticket To A Great Night Out
What Makes It Awesome
The new and improved Atria Mall is a megalith of restaurants, each vastly different from the other. Baraanaa positions itself as a "World Cocktail Bar", with offerings inspired by destinations like Hong Kong, Sweden and France. A generous, fairly unimpeded space that, Baraanaa is low-lit, glimmering and well, super plush.
Confession: We admit, we love a bit of theatre when it comes to food and drink, and an experiential cocktail is probably the best way to enjoy a spirit as it goes down. A single shuffle through Baraanaa's list of bar offerings made it pretty clear to us that none of the drinks on the list were going to be haphazard mixes of spirits and uninspired mixers, but labours of love that you experience while you sip.
Take the Indian Sour for example. Starkly reminiscent of warming, soul-soothing concoctions that warm you up in bitter winters, this one was a whiskey-based cocktail that had the number 75 (alluding to the bar's name - Baara - Aana) stenciled on it with spices. We also tried the Jokkmokk Kiss, a cocktail inspired by Sweden, which was presented to us with a spray of rose essence, which we've got to admit, magnified just how delicious this one was. Evocative of rich, rose-scented, milk-based sweets, the Jokkmokk Kiss pulls of the feat of being saccharine, without being cloying.
Our third favourite is, without a doubt, the French Iris. A melange de luxe, this one's a combination of Campari, Gin, Mandarin, French Vanilla, and, who would've guessed - Cucumber. The French Iris was somehow, magically, equally refreshing as it was soothing. We're guessing it's the warm embrace of the rosemary in there that elevated the pairing of cucumber and vanilla.
We also sampled The Godfather, the Tokyo Thriller (a sake-based drink complete with a leaf of pandan) and the Mexican Little Pamlo (we loved the addition of grapefruit in this one!).
We'd probably keep sampling drinks if they hadn't brought the food to the table, but we had to give the tapas and mains a fair chance. Long story short, we have no regrets - the Porcini Arancini Makhani (this one's vegetarian) is the perfect bar eat - more-ish, yet rich, and dip-able (we were told to dip the arancini in the makhani before taking a bite).
The Wasabi cashews were delicious too, and our cocktails somehow tasted even better when paired with them.
The Memna Cigars, with their lamb meat filling, are another fun eat - crunchy, meaty and served along with a creamy sambhal mayo. We also enjoyed the Steamed Laksa Fish, which was supremely soft and light, serving as the perfect precursor to heavier mains.
We kept the mains light with the Pan Asian Veggie Burger and the Mexicano Flatbread. We loved the bao-esque take on the buns, but we'd prefer if it was more savoury than sweet. However, we couldn't stop reaching for the lotus stem chips which were served with it, and you can be sure that we ran out of Wasabi Mayo long before the burger was eaten.
The Mexicano flatbread wasn't particularly awe-inspiring, but we'll maintain that it's great when shared with a (hungry) posse that's happy to share a dish or two across the table.
It doesn't take a #blogger to note that every dish, drink and seat here is pure #Instagram fodder, but we're not complaining! The modern, ultra-chic, neon-signy "Drunk in Love" decor compliments the multifarious menu, and we're happy to make the trip to Baraanaa to live it up every now and then… We love us some #aesthetic
Price For Two: INR 2,000
Comments