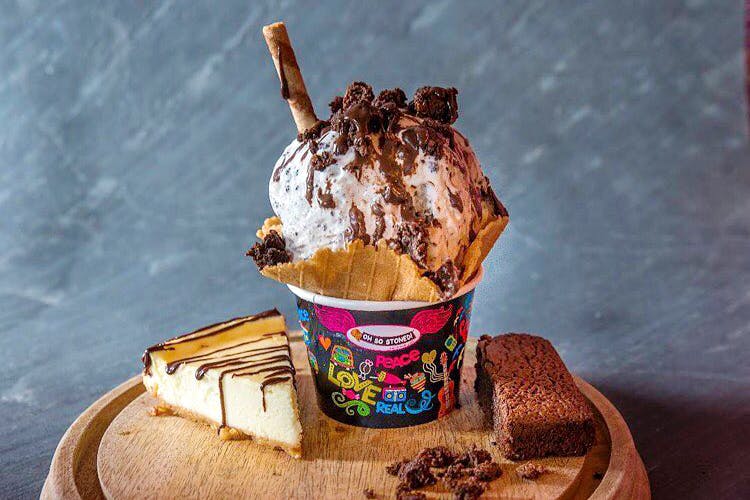 Boozy Banoffee, Masala Chai Or Whisky: Unique Flavours At Mumbai's Best Ice-Cream Parlours
With ice-cream parlours sprouting in the city by the minute, we help you decide which are the best ones in town. But, you should try these out to get that brain freeze and added quirks that come with these unusual blends.
Papacream, Multiple Outlets
Papacream in Ghatkopar and its other outlets serve some unique combinations and flavours of ice creams like tipsy whisky, spicy guava, virgin mojito sorbet. They obviously also serve classics like Belgian chocolate, blueberry, bubblegum candy floss and more.
#LBBTip: They've got tons of vegan options available as well, so do try those. Some include vegan peanut butter, jelly, vegan mango, vegan chocolate etc.
Oh So Stoned
It has nothing to do with getting high on certain herbs, rather, get your high on their ice creams. Must try out the Oreo Cheesecake, Whiskey Caramel (divine), Rum Baba, Boozy Banoffee, and the Charlie, Drunken Chikki & The Chocolate Factory (for nostalgia).
K Rustom Ice Cream, Churchgate
Well, this SoBo ice-cream place requires no introduction. This iconic ice-cream is served as a thick slab sandwiched between wafer biscuits and wrapped in thin butter paper. Its most popular flavours, walnut crunch and kesar pista are also layered with bits of walnut, caramelised sugar, and pista respectively.
Read more about it here.
Bachelor's, Bandra and Girgaum Chowpatty
Known for its range of ice cream flavours and fruit shakes, Bachelorrs has carved a special place in the hearts of Mumbaikars. Adding to Bandra's burgeoning cafes and new restaurant openings, we are happy that the suburbs now have another icon that SoBo would boast off.
Read more about them here.
#LBBTip: This one's a great option if you want to munch on something while you're out for late night drives. It's open till 1:30 PM
Where's My Cone?, Bandra
They have delicious, creamy ice-cream in flavours such as vanilla bean, filter coffee, salted caramel, triple chocolate chunk, peanut butter jam shortcake (the names will only get longer and longer) and more. But their specialty lies not in an ordinary scoop by cone or cup though, but in their ice-cream cookies which squishes a thick slab of ice-cream in between two cookies.
Read more about them here.
#LBBTips: We particularly loved their colourful toppings like rainbow sprinkles, orea, fruity pebbles etc.
Taj Ice Cream, Mohammad Ali Road
Finding Taj Ice Cream in the middle of the Bohri Mohalla near Muhammad Ali Road is like finding an oasis of taste. In operation since 1887, one cup of their hand-made San-Cha ice cream will cost you INR 70. This one is popularly known for its fresh fruit flavours including sitaphal, mango, musk melon, chickoo, pineapple etc.
Read more about it here.
Twisting Scoops, Multiple Outlets
Ever tried Turkish ice-cream? You can now witness the theatrics of the globally famous Turkish ice creams right here in Mumbai, all thanks to Twisting Scoops. They have tons of flavours for you including Alphonsya, masala chai, lemon mint, Royal Caribbean etc. They've even got the delicious Turkish coffee.
Pro-Tip
Well, if you're a fan of handcrafted and artisanal ice-cream, we've got an entire guide for the best outlets to get freshly made ice-cream. Read it
here
.
Comments