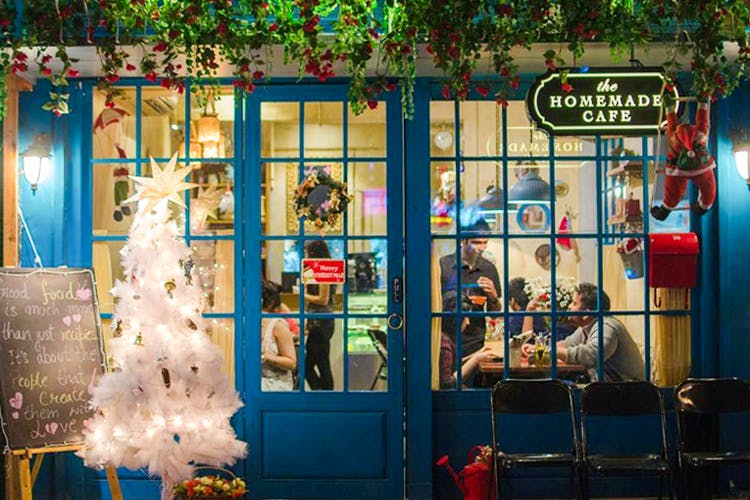 Mumbai In A Frame: Visit These Pretty Instagrammable Spots In The City
Shortcut
Life in Mumbai is mostly about running behind a local train, working your days off, and getting perpetually stuck in traffic. And that makes it very difficult for us to appreciate the beauty that lies within the by-lanes. Our mornings begin with Instagram story updates and end with scrolling through beautiful photographs on someone else's account.
However, we want you to take some time out and get the phone-cameras clicking. Here's a list of some of the few Instagram-worthy places that Mumbai is blessed with. All you've gotta do is point and shoot!
Pink Trumpet, Eastern Express Highway (Vikhroli Stretch)
The next time you've to cross the eastern suburbs of the city, ask your rickshaw driver to take you through the Vikhroli stretch of the Eastern Express Highway. You'll be surprised to see how pink it has turned. If you're wondering why, just go there and gawk at the beautiful pink flowers sprouting out of the trees planted on the footpaths. No, they aren't Cherry Blossoms. Known as the Pink Trumpet, this tree grows from December to May in full bloom, and is pretty low-maintenance. Makes for a really dramatic photograph for your Instagram feed, no?

Ranwar Road, Bandra
Bandra lanes are full of surprises and one can never get enough of them. The area was made of 24 villages in total and one of the villages that has been stealing the limelight of late is
Ranwar
. With buildings and houses that age more than a 100 years, this tiny settlement boasts of an Indo-Portuguese-Colonial style architecture with fine wooden porches, winding staircases, and pointed house roofs. It is situated between the Hill Road, and Mount Carmel Road. (P.S- Begin from the lane that passes through the Birdsong Cafe) Happy clicking to you.
Bayroute, Cuffe Parade
This posh restaurant is a middle-eastern oasis in the city for people who fancy hot air balloons, belly-dancing, and hummus. If you've ever fancied Arabian Nights, you must head to Bayroute in Cuffe Parade. Its huge ornamental windows, dainty lamps, and a beautifully patterned flooring will make you want to put up Instagram stories for your friends who're missing out on this, to feel jealous. Oh, and while you're at it, gorge on their mouth-watering middle-eastern delicacies.
The Homemade Cafe, Oshiwara
Always wanted to hang out in a cutesy cafe in Paris, with a book in your hand and some latte? The Homemade Cafe brings Paris closer to you. Go there for the Parisian vibes, Bougainvilleas adorning the entrance, a little cat lazying around in his basket, and the bright blue exteriors. The interiors are full of quirky posters and photos. And the bill is served inside books. So when you think of a cozy and snug open-air French cafe, you head to The Homemade Cafe and capture your memories.
Queen's Necklace, Nariman Point
To add some drama to your social media, head over to Mumbai's most visited (and iconic) spot. You will find joggers, lovers, businessmen, tourists, and friends chilling by the sea and making merry with kacchi kairi, a cutting chai, and some moongphali. There are kids blowing bubbles in the air, happy dogs wagging their tails (if you want some candid shots for your photo-stories) And the masterpiece at Queen's Necklace is the gorgeous sunset, clubbed with the onset of twinkling city-lights post dusk.
Asiatic Library, Fort
Asiatic Library has been a part of many Bollywood flicks, because of its iconic steps that go up to the gigantic white pillars standing strong against the historic library. The best time to visit it is post sunset. And if you're going there during the day, make sure its not too sunny. You might get a brilliant shot of cars in motion, with the library standing still, as a work of art.
The Gateway Of India, Apollo Bunder
It's hard to think of Mumbai without immediately imagining the Gateway of India. This historic monument draws our attention for not just its impressive architecture, but also for the fact that set against the Arabian Sea, it's the perfect clickable frame! We suggest getting here early in the morning so you can get that perfect shot before the crowds arrive. Turn that camera around for shots of the iconic Taj Mahal Palace Hotel too, while you're here. P.S. Those pigeons have been photographed to death...but hey! why fix a formula that ain't broke.
Chor Bazaar, Kalbadevi
Careful! Don't get run over while trying to capture the perfect shot at this busy flea market in South Mumbai. Packed choc-a-bloc full of stalls, street vendors, and little stores crowding one another, this is one of the city's most vibrant spots. Keep an eye out for those vintage knickknacks that make for a great photo. We suggest you head here before sunset - it tends to get very crowded in the evenings.
Five Gardens, Matunga
Five Gardens is a beautiful neighborhood that's worth exploring on foot. Walk along the wide boulevards and tree-lined streets here with your camera in hand to capture an elusive calmness and greenery in the heart of the city. Early morning is a great time to explore the area, while if you love to capture those heartwarming human moments, head here in the evenings when families are out and about.
Comments