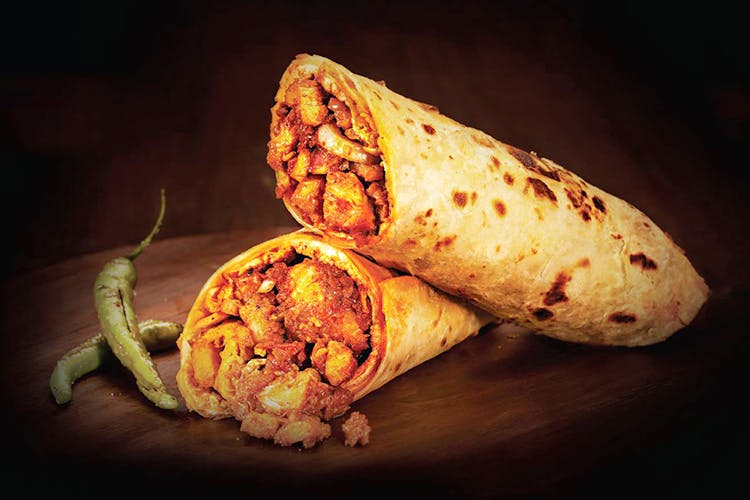 On A Roll: These Mumbai Joints Whip Up Some Of The Best Wraps
There are times when hunger pangs kick in after you've reached home from work, or while you're still stuck in office post 7 PM. And you don't really want to settle for a vada pav or a packet of chips (that otherwise houses vacuum!) It's during that time that you're probably craving a spicy, meaty, juicy and succulent wrap. However, we know that when it comes to ordering, the variety in places might be confusing the hell out of you. So we've made it easy-peezy. Bookmark these Roll joints. Like now.
Bademiyan, Colaba
One of the busiest lanes on the backside of the Taj Hotel houses Bademiyan. And one of the major reasons for people flocking in this lane is Bademiyan itself. After all, who can even escape the aroma of masalas? You'll see cooks wearing a long white chef's cap, and twisting huge Baida rotis in the air, to give you the best Mutton Rolls. The Baidas are nothing but a fried roti that's stuffed with minced chicken, egg, or mutton, and either flattened or given in the form of a roll. You can ask the waiter for customizing you're into the desired shape.
Must-Try: Mutton Baida, Chicken Baida, and Paneer Baida Roti, and all the kebabs there are bomb!
Price: INR 250 onward.
P.S: Bademiyan is open till 2, so your midnight cravings for good food's pretty much sorted.
Rolls Mania, Multiple Outlets
If you haven't tried the Chicken Bhuna Roll here, you're really missing out. This brand specializes in rolls and has something for all kinds of cravings. For tiny bites, there's a simple Aloo Fry Roll, if you're fond of fusion, then maybe a Paneer Mughlai rolls for you, and if your appetite's huge, then go for a Double omelette double chicken roll.
Must-Try: Double Omelette double chicken roll, and Chicken Bhuna Roll
Price: INR 120 onward
Bhima Calcutta Roll, Andheri West
Bengalis love their rolls, so they know how to do it too. This tiny cart may look all mediocre, but that's deceptive. You'll find cars stopping to grab a quick bite of their super affordable Calcutta special Egg Chicken Roll. They're spicy, lathered in flavorful masalas, and the lady making them adds a generous number of chicken pieces.
Must-Try: Calcutta Roll, Aloo Cheese Roll, Special Paneer Roll
Price: INR 100 onward
P.S: They're near the DN Nagar Metro Station in Andheri, in case you're unable to trace them.
Ayub's, Fort
Their chicken tikka rolls are stuffed with generous quantities of fresh green chutneys. The baida is fresh, and in case you're someone who's fond of a little bit of spice in their food, Ayub's is apt for you.
Must-Try: All the kebabs, Chicken Malai Kathi Roll, and the Chicken Tikka Roll, of course.
Price: INR 160 onward
P.S: It is open until 3 AM!

Hangout Kathi Rolls, Versova
Sitting by the Versova Beach and munching on some hot and spicy rolls with a foodie BAE (Thank us for the date idea in case you implement it) Sounds ideal, right? Located amidst the oasis of eateries that Versova has, this one's an expert in Soya Chaap Rolls, and Chicken Seekh Rolls. It's a tiny outlet but has people buzzing around always.
Must-Try: Chaap Rolls, Chicken Mughlai Shawarmas
Price: INR 180 onward
Candies, Bandra
Candies needs no introduction, really. Every college-goer's favorite hangout spot whips up some of the best wraps and rolls. The ambience is pretty lit and sometimes tends to steal the limelight away from how amazing the food is, but nothing can ever beat their soft and succulent Butter Chicken rolls.
Must-Try: Butter Chicken Rolls, and Paneer Makhani Rolls
Price: INR 150 onward
Comments