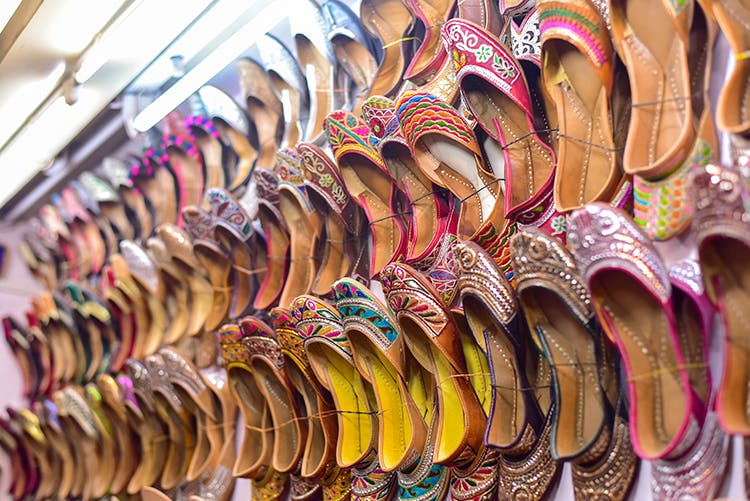 Chic & Affordable: Shop For The Best Juttis In Mumbai From These Brands
With the Indo-western fusion look making a huge comeback, this list will help you shop for those perfect juttis that will tie your outfit together!
La Judi
There's no dearth of colours or prints at La Judi. We love their ethnic collection, and absolutely adore the fact that their juttis that can be paired with our daily wear too! You can pair them up with any outfit, and it's guaranteed to look super trendy. Not just that, they have a terrific collection of footwear that you should not miss out on, all af affordable ranges, starting at a mere INR 250 a pop!
Dolce Vita
Pinterest goals much? All their shoes are super gorgeous and absolute Pinterest outfit goals, but it is their cute juttis that make us drool! What we love is how the juttis can be paired up with both ethic and western wear.
Feetish Amour
They have a wide range of juttis, and quality is something that is not compromised upon. They have a pair to go with everything, right from a traditional look, to a funky Indo-western fusion outfit.

#LBBTip – You can get custom printed juttis too.
Lasa
Their cute pairs of handcrafted Juttis are quirky and uber trendy, making them the right fit for every type of outfit. Plus these juttis are super comfortable.
Sajni Designer Shop
Ever thought of an outfit that looked oh so perfect in your head, but when you actually put it all together it's a huge fashion disaster? The simple yet stylish juttis are like your rescue boat in these situations. With their unassuming, elegant styles, they will help put any outfit together. Their collection is big, and if you go there with your outfit, they will help you find something that works very well, within a budget.
Arvind Chappal Mart, Dadar
Y'know those little shops with super limited space, but a super unlimited range? Yep, this is one of those. Yes, it'll take you a minute to find it, but we promise it's worth it. They've got a huge cost-effective options for juttis, and the whole range will cost you INR 300. We suggest stocking up on the basics from here!
Ask Protima a question