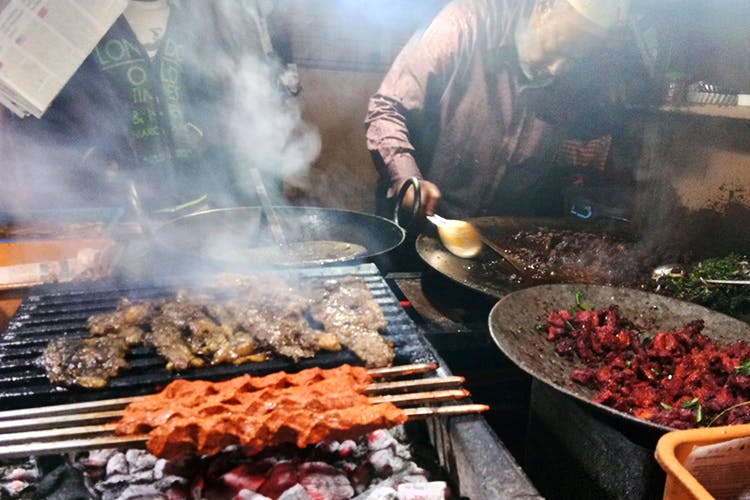 Seekh And You Shall Find: Here's Where You Can Get The Best Street Style Kebabs In Mumbai
Ever dreamt of juicy, succulent kebabs making their way to your plate? If you're all about running to a place so that you can have a piping hot plate of kebabs with chutney and onion rings, this list is for you.
Idris Kebab and Rolls, Cuffe Parade
They have a variety of dishes for you to indulge in, like their mutton and chicken seekh kebabs, khiri tikkas, kalamiri tikkas, malai tikkas and boti kebabs. The meat is tender and flavorsome. These delicacies are served with wholewheat rotis. Their service is prompt and the food is priced reasonably too.
Price Range: INR 300 (for two people)
Sarvi Restaurant, Byculla
Closer to the Persian shish kebabs, these ones at Sarvi are long and flat, and bear no color of any masala, but the perfect grilling of it is what makes it lip-smacking. Mildly flavored to savor the mushy, melt-in-the-mouth texture, these kebabs are best paired with the over-sized tandoori rotis. The roti has its own unique flavor, which we believe is due to the dough being kneaded in milk or cream.
Price Range: INR 250 (for two people)
Nawab Seekh Paratha, Kurla
A parantha and two kebabs can be had for around INR 70, which is a stellar dinner option because it's pocket-friendly. Sit on the worn-out benches, with no menu, no formalities and no fuss. The kebabs are made from bade ka gosht, which used to be an equivalent for beef and is now known as the water buffalo meat. The paranthas are half tava and half deep-fried, coming out crisp and bubbly in texture from outside and yet soft like a roti from the inside.
Price Range: INR 400 (for two people)
Haji Tikka, Byculla
If the taste of food is your prime focus while going out, do give Haji Tikka a try. It's a no-nonsense eatery that'll send you back to Purani Dilli. Haji Tikka has seekh kebabs (INR 90), achari tikka (INR 90) and malai leg (INR 90.) The meat is juicy and it gives out a smoky flavor. Also, try 200 grams of their French fries at INR 60.
Price Range: INR 250 for two people
Nice Fast Food, Santacruz
Served on paper plates in neatly chopped cubes, their baida is fresh and crisp with a tender meat filling that never errs towards being too greasy, and served with a green chutney on the side that makes all the difference. Follow this with a couple of rounds of the kebabs. The mutton kebabs are juicy and flavorful, and we also recommend the khiri tikkas if you're more adventurous.
Price Range: INR 300 (for two people)
Yunus Kebab Place, Nariman Point
Yunus stands in the line of the food stalls that take over the lane opposite Nariman Point in the evenings. It's the only stall there that has a barbecue and we immediately knew we had to try it, owing to the whiff of the tikkas that beckoned us there. The menu is quite a limited but rich one - with items ranging from chicken to mutton and boti kebabs. It also serves khiri kebabs, kaleji and kebabs in a soft bun.
Price Range: INR 200 (for two people)
Ayub's, Fort
It whips up some of the best kebabs in town. And will also cater to your hunger pangs at 3 AM. Some of our favorites are the chicken tikka kebabs, chicken reshmi kebabs, and mutton seekhs. Their chicken tikka rolls are stuffed with generous quantities of fresh green chutneys. The baida is fresh, and in case you're someone who's fond of a little bit of spice in their food, Ayub's is apt for you.
Price Range: INR 400 (for two people)
Ustad's Kebab and Chinese, Borivali
Their beef boti kebabs and khiri kebabs are out of this world. And they're very nominally priced for INR 80 a plate, each. And if you're a chutney lover, they have a special mint chutney for you that will have you craving for more. The guy at the stall is a really sweet chap and the service is quite fast. What more do you need?
Price Range: INR 400 (for two people)
Pro-tip
We know you already know this, but all the kebab corners mentioned in this article are operational mostly in the evening. Happy devouring!
Comments