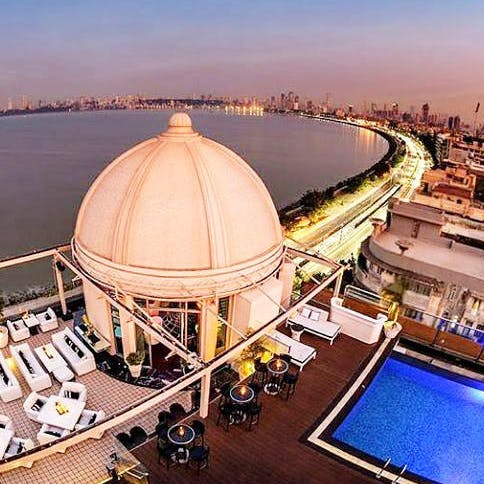 Dine Under The Stars: Outdoor Restaurants To Check Out When In Mumbai
Eating under the stars or out in the breeze has its own charm. A place to eat with a perfect outdoor seating not just sets the mood right, but also give a common topic to kickstart a conversation: the view! So, here are some outdoor seating restaurants you must visit when you are on a date next!
Estella, Juhu
Estella, a lounge on Juhu Tara road serves amazing food, delicious cocktails and most of all, has an amazing view of Juhu beach that it affords. Estella boasts of being the first modern Australian restaurant. Their menu marries Australian essentials with Asian cuisine, and it's a surprisingly good match.
Read more about it here.
The Goose and Gridiron, Fort
A pub, an outdoor café or the entrance to a secret society, The Goose and Gridiron is more than what meets the eye. The menu has a bit of everything, from your classic pub food – fish and chips, messy French fries and more. They've experimented a little with the classic dishes too.
Read more about it here.
The Waterhouse Deli, Thane
Being Thane's first cafe with an outdoor space and a terrace, The Waterhouse Deli spans 5,000 square feet, has an expansive garden and indoor & terrace seating to chill in. The decor is made from reused materials such as wood, iron and papers that are eco-friendly, while adding modern amenities to the setup. The cafe has a rustic, chic garden lounge vibe which pays homage to the nature.
They're temporarily closed (just for a month), but do stay tuned to know what new things they have in store!
The Marina Upper Deck, Colaba
The Marina Upper Deck remains one of our favourite rooftop cafes with a wondrous view of the sea, especially when the rain comes pouring down. You can get everything from the usual suspects – paneer tikka, galouti kebabs, tandoori chicken, calamari fish, garlic bread, Bombay masala french fries and more. They've got continental as well as Asian food up for grabs as well.
Read more about it here.
Café Sea Side, Bandra West
Café Sea Side has been around for years, and you may remember it from the family visits to Bandra Fort. It's still around, and for those who haven't been, have a beautiful, uncurtained view of the sea through their window. It's just pure nostalgia if you ask us, but a lot of you have written about this space, so we thought it should make an appearance!
Read more about it here.
Café Serene, Mira Road
Located on Virgin Beach in Uttan Bhayender, Thane, Café Serene is known for its ambiance and feel. Their fusion of Indian and Moroccan architecture sets the perfect mood to send you in a trance as you feel the sea breeze caressing your face while digging into your favorite meal over a conversation.
Read more about it here.
Cecconi's, Santacruz
Everyone in Mumbai by now knows SoHo House. After all, it's the paparazzi's favourite. While SoHo House may be a members-only space, Cecconi's, their classic Italian restaurant, is open to all. You want to make the most of the weather sitting by their sea-facing tables.
If you're a fan of sea-side restaurants and Italian food makes your heart skip a beat, then there's no reason why you don't need to visit Cecconi's. Go here and make the most of their food and ambience, and keep your cameras handy!
Read about it here.
AER, Four Seasons
AER is on the 34th floor of Four Seasons hotel, and has a gorgeous view of Mumbai. They play great lounge music that is loud enough to groove to but soft enough to be able to hold a conversation over without having to yell, 'what?' multiple times.
If you're confused about what to wear, the dress code here is smart casuals, and men, we'd advise you to wear full pants and closed shoes. Ladies, keep it smart and keep it stylish. With a view like the one AER's offers, you can sip on some drinks and watch the sunset. Since this is a lounge and not strictly a club, there is no entry charge. It is getting a table on a busy Friday and Saturday night that's requires a cosmic interplay of luck and more luck, so we recommend booking in advance.

Read more about it here.
Moonshine Cafe & Bar, Andheri
This popular bar from Delhi's Hauz Khas village has found a new home in Andheri last year. The menu isn't restricted to a particular cuisine but Indian dishes take the lead here. If you're into large spaces and good music, you should check it out. It also has a pretty cool terrace, DJ nights (for when you want to kick off those shoes and dance) and some pretty interesting food and drinks.
Read more about it here.
38 Degree East, Powai
Another gem in the city, this restaurant's got a killer view of Powai Lake, amazing decor, food and ambience. We can't even choose what you've got to order when you're here, but we'll take a chance: the Corn and Chestnut Rolls, Wanton Nachos, Punjabi Dum Aloo, the Pain Killer cocktail, the Gulab Jamun Truffle, and the Motichoor Pani Puri Shots!

The Dome, Intercontinental Marine Drive
Whether you're a tourist or a city dweller, you must visit the Dome. An open-air restaurant, you should book the table with the view of Marine Drive much in advance. A good glass of wine and the perfect view will just add to the experience.
Read more about it here.
Comments