The information in this post might be outdated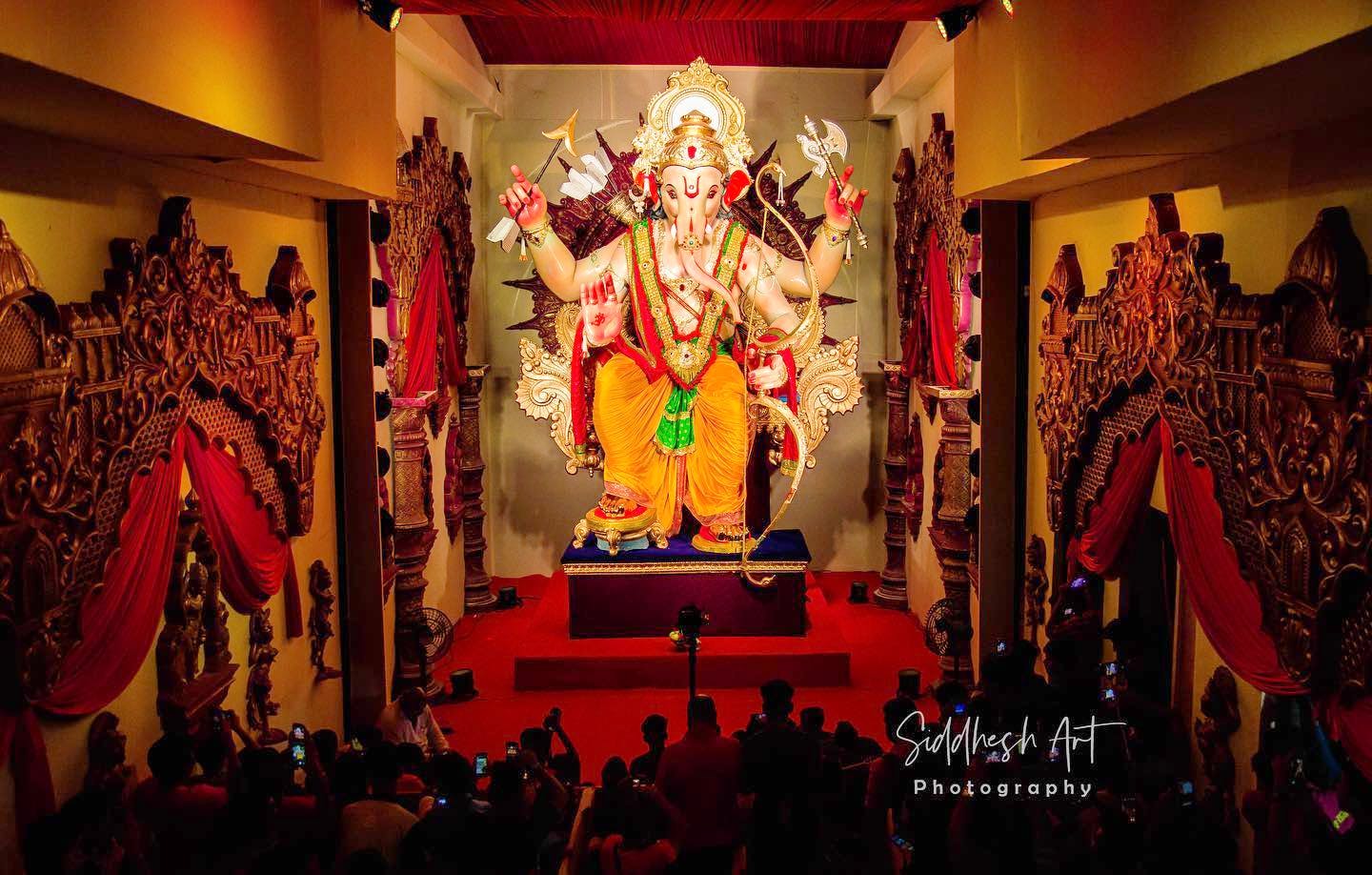 A Comprehensive List of The UNMISSABLE Pandals of Mumbai
Ganesh Chaturthi ain't really Ganesh Chaturthi until you've partaken in some ardent pandal-hopping. And we're not talking about flitting from one pandal to another in a 2 km-radius around home turf, no! We're talking about going the whole deal and getting yo' darshans from the city's greatest. We're talking about a full-blown, adrenaline-fueled tour of pandals that are synonymous with Ganesh Chaturthi since the festival's very inception (in 1893!).
It may be ambitious, but we really do believe you've gotta visit all these pandals this year. Chart your route starting with the one that's farthest from home, for you. Here's the list:
Lalbaugcha Raja
Yes, we're starting with the obvious, but it's obvious because it's un-freakin-missable! The mastodon when it comes to pandals in Mumbai, Lalbaugcha Raja also happens to be one of the oldest pandals of the city, and is touted to be an ichchapoorti (wish-fulfilling) Ganesha. This year, the pandal follows a theme - ISRO's Chandrayaan 2! The decor is all space-inspired, and you can bet it's going to be extravagant AF. In case you're a fan of dancing during visarjans… Lalbaugcha Raja by far has the longest procession. It takes almost an entire day for the massive idol to traverse the streets of SoBo, and you can bet it's going to be a lit affair!
Andhericha Raja
An offshoot of sorts of Lalbaugcha Raja, Andhericha Raja was started in 1966 by the blue collared workers of companies, who had moved to Andheri. Today, it's a contender for one of the longest visarjan procession in the country. Since its route cuts through many areas within Andheri - Veera Desai Road, Azad Nagar, Andheri Market, Apna Bazaar, 7 Bungalows and finally, Versova. The visarjan procession starts around 5pm and continues into the wee hours of the following morning.

GSB Seva Mandal
This one's the richest Ganpati pandal in the city - it's even insured for INR 266 crores! This King's Circle pandal follows traditional Rig Vedic mathods of accepting donations… Think donations of rice, flour, ghee, sugar and coconuts in your body weight. Yup, that's right. This one is by far the most OTT pandal around, so definitely visit it for the visual spectacle it is!

Keshavji Nayak Chawl
This one's THE oldest sarvajanik Ganpati - it completes 127 years, this year! Started in 1893, this pandal has even been visited by Lokmanya Tilak… LONG ago in 1901. It's lauded for its simplicity and traditional, by-the-book celebrations. This one's in Girgaon! Don't expect any loud music, DJs spinning tunes, and crazy lights here. It's not a gigantic idol, either. Visit this one for the quiet sense of peace, and for a (brief) glimpse into the other (AKA quieter) side of Ganeshotsav.

Girgaoncha Raja
We're applauding Girgaoncha Raja for being one of the few huge idols in the city, which is completely eco-friendly. Made completely out of shadu clay and grass, it sets a positive example for all the other ganpatis in the city! Head to this one to support the green movement that's slowly (but surely) entering the city's consciousness. Oh, and it's pretty historic too! Do visit Girgaoncha Maharaja, too, since you're gonna be around anyway.

ccha Raja
Started in 1920, Chinchpoklicha Raja is based around the Pashupatinath Temple in Nepal, this year. It rubs shoulders with others in the vicinity, but what sets it apart is it has a medical centre for people who have little access to medical help, and even a reference library where students can go study. Isn't that thoughtful?
This one's called the "Chintamani" because this bappa's believed to fix your chintas.

Mumbaicha Raja, Ganesh Galli
Another eco-friendly city icon, Mumbaicha Raja is also a Lalbaug fixture, and is, again, one of the oldest pandals around. This one's famous because the pandal always replicates major Hindu temples from around the country to a T!
Head here after you've visited Lalbaugcha Raja and Chinchpoklicha Raja!
Sahyadri Krida Mandal
This pandal's got a great theme - "Jai Jawan, Jai Kisan, Jai Vigyan!" This pandal's in Chembur, and has also been proactive about keeping things eco-friendly.

Comments