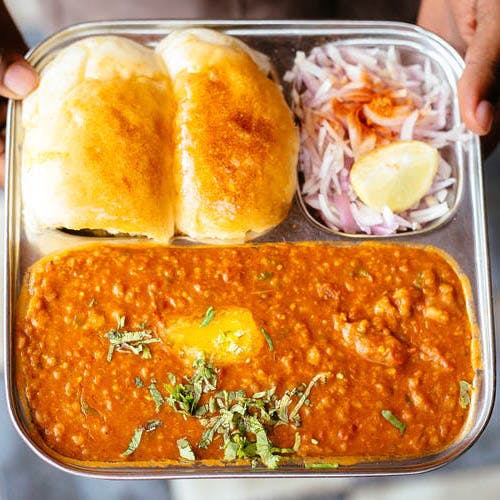 Utterly, Butterly Good: Best Pav Bhajis In Mumbai
If you're a Mumbaikar, you're sure to have a favourite pav bhaji joint in the city. From spicy, eye-watering ones to the more moderate ones, the following places serve some of the best pav bhaji in Mumbai.
Amar Juice Centre, Vile Parle
Amar Juice Centre is a street food favourite. They're said to add their 'secret' chutney powder and a self-made pav bhaji masala that adds a unique flavour and coats the pav bhaji with a tangy zest. Ever crowded, this place is home to one of the best pav bhajis in Mumbai, and attracts everyone from college students to office goers and tourists who have oh-so-often heard about Amar Juice Centre and its legendary status. What's more, the place remains open till 2 AM every day.
Price: INR 147 per plate
Sardar Pav Bhaji, Tardeo
Yet another legendary place for you to savour the best pav bhaji in Mumbai, Sardar Pav Bhaji adds a massive dollop of butter to their bhaji. While going here, make sure to leave out all preconceived dietary notions and come with an open heart and an empty stomach. Trust us, you will not regret it.
Price: INR 140 per plate
Gypsy Corner, Dadar
While Gypsy Corner does rank their staple as among the best pav bhaji in Mumbai, the place has a large variety of local dishes on offer, most of which are Maharashtrian delicacies that make for incredibly filling meals. Adding to that is the expert pricing, and you get some of the most value-conscious and delish dishes in the city.
Price: INR 110 per plate
Cannon Pav Bhaji, Fort
Cannon Pav Bhaji is nothing short of a legend in the city, constantly serving what happens to be one of the best pav bhajis in Mumbai. The bhaji is packed with flavour, the pav is slathered generously with butter, and the dish is served with onions and a slice of lemon to spice up your shoestring budget lunch. Office-goers have frequented the place since forever, and there is no reason to wonder why.
Price: INR 100 per plate
Mohammad Nasir Pav Bhaji & Bhurji Centre, Juhu
This is another place on this list that has more iconic items on the menu, and remains open till the wee hours of five in the morning. The yummy pav bhaji is certainly among the best late night eats in Mumbai, but the story doesn't end there. Be sure to try out their biryani and bhurji pau, and there is no way that you will leave disappointed.
Price: INR 110 per plate
Achija, Ghatkopar
They offer the softest Masala and Khada Pav Bhajis in Mumbai that simply melt in the mouth. Open till 1 AM, this one too, must be added in your list, especially if you're visiting Ghatkopar East anytime soon. Also, if you're there, don't forget to gorge on the cheese pau bhaji.
Price: INR 180 per plate


Maruti, Vile Parle
What attracts people is the absence of any artificial colouring agent among their Pav Bhaji ingredients. That not only makes it a much sought after Pav Bhaji place, but also helps it gain trust amongst the daily pau bhaji consumers. This one is highly economical, and super tasty.
Price: INR 90 per plate
Manohar Pau Bhaji, Girgaum
This one is as old as 100 years and the intense aroma of the bhaji pulls us towards it, every time we are near the Opera House. All of their ingredients are home-made, including the chilly and garlic paste spruced with capsicum and coriander.
Price: INR 100 per plate
Comments