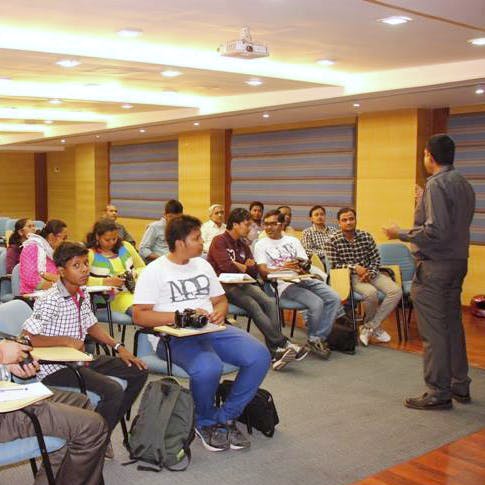 Click Click: Our List Of Best Photography Classes In Mumbai
A picture is worth a thousand words, and the skill it takes to take a good one is priceless! These classes will teach you everything you need to know about taking photographs. Are you a budding photographer, or a newbie who's ready to dive right in? We've compiled a list of great institutes to join.

Master's Digital Photography School
This is a school for both amateurs and professional photographers. Those who enroll can learn through lectures, guest lectures, slideshows and of course, photoshoots (both indoor and outdoor). It's okay if you don't own a DSLR - you can learn the basics and then decide if you'd like to invest in one. They're known to have produced some of the most talented names in the industry, so if photography is something that interests you and you wish to take this up seriously, sign up at this institute for either a crash course of 8 days, a diploma or even a basic course for a month. For those interested in taking this further, they also have a 2 month course.
#LBBTip- they close admissions once they register 15 students, so hurry up!
National Institute of Photography
This ISO:9001 certified institute has produced some of the best talent in the industry. From tabletop photography to fashion and lifestyle shoots, you can sign up to learn any style. They have courses designed as per interest levels - you can opt for a crash course as an amateur with a photography hobby, or even as a professional. Other courses include an advanced course for professional photographers, videography courses and diploma courses. They even conduct workshops!

Shari Academy
With over 25 years of experience in the field of teaching photography, Shari Academy comes as a highly recommended choice of classes for photography enthusiasts. They believe that practising and learning will help fine tune the skill, and thus encourage creative expression and freedom. You can take a basic, advanced or a diploma course here. The duration of the classes is between 4 days to 2 years, depending upon the course that you're choosing.

Udaan School of Photography
This one comes with a huge campus right in the heart of Mumbai, and boasts of an award-winning faculty that will teach you photography, either as a hobby or for professional use. With 4 large studios and a sprawling space available for shoots, Udaan School of Photography has a distinguished faculty and unparalleled course material. You can sign up for the weekend courses, workshops, month-long courses or the advanced courses. They even have specific courses for wedding and fashion photography.
#LBBTip- they have a course for children too!
Girish Menon Photography
Girish Menon has taught photography to more than 4,000 participants between the age of 8 and 85, and is known for his patience and of course, skill. Girish conducts workshops that he facilitates himself and ensures that he is personally involved in every student's photography journey. The workshops are task-oriented, which means you get ample practice too. You can sign up for people, portrait photography, street photography, travel photography, wildlife and bird photography and macro photography.

Professional Photography Institute
PPI is founded by internationally renowned fashion and product photographer Anil Kumar, who specialises in shoes, fashion, product and jewellery photography. He's been a photographer for over 40 years and has worked with some of the best brands in the country. You can sign up for a basic course for beginners, and even opt for specialised courses in fashion and lifestyle photography.

Ray of Light Photography Institute
This is a social organization that conducts photography courses, editing courses and even social camps and outdoor shoots. They've been in the business for the last decade, and are known to provide informative and affordable classes for photography. You can sign up for their workshops on digital photography, and to learn how to use photoshop.
Comments