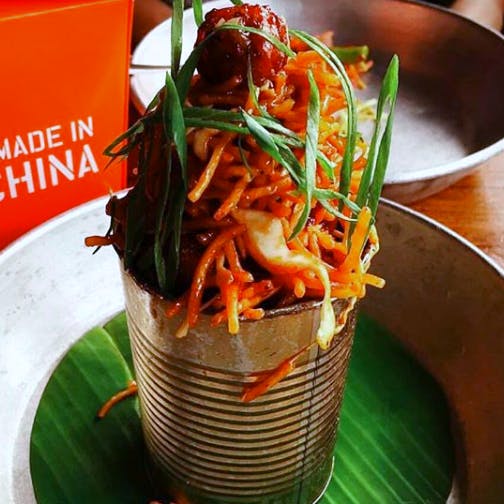 Made In Mumbai: 6 Chinese Bhel Joints To Get You Hooked To
Fried noodles, schezwan sauce, cabbage, onions, and capsicum. Okay before that sounds like we're stating ingredients in a cooking show, let's get down to telling you how gobsmacking Chinese Bhel is. Invented in aamchi Mumbai, this 'Chindian' member of the chaat fam (only if had from the right places) etches a mark in your tastebuds, forever. While we don't know how and when it became a widespread evening snack, we do know that anything that has schezwan in it can never go wrong. So we've made you a list of our favorite places to munch on some Chinese Bhel. Ready to hog already? Read on.
Raju Chinese, Churchgate
This one's a pretty famous open-seating joint near the Churchgate station. You walk to the Nirmala Niketan College, and you find Raju whipping up some hot and spicy Chinese Bhel for INR 100 a plate. They've been here since quite a few years and you'll find office-commuters and college-goers flocking like a bee at his joint.
P.S: Raju Chinese is open from 10 AM to 10 PM.
Slurp and Burp, Borivali
This Borivali cafe specializes in American fast food in general but Chinese bhel is one of their house specialities. For INR 135 a plate, you get a wholesome quantity that fills up two people. Also, while you're here, you could try their classic nachos, and falooda.
Narayan Snack Parlour, Andheri East
You'll find it near Andheri East's station side, and its quite a popular one, so expect it to be all crowded, and make your way wisely. Their version of chinese bhel (INR 130 a plate) is slightly tangy, but you can ask him to do away with the nimbu on the bhel.
Social, All Outlets
Restaurants and bars have given a new spin to the greasy, saucy chinese bhel, and one of the first big joints to do it was our favorite Social. Looking for chakhna to go with your drinks but are bored of the usual masala peanuts or papads? Try the Chinese Bhel at Social. Available in all outlets across the city, we love it the most, simply because it retains the authentic flavours, sans the extra oil dripping off it.
Elco, Bandra
Elco is a snack hub for almost every shopaholic raiding Bandra's Hill Road. If you're one of them and have never eaten at Elco, or if you've eaten there but not tried the Chinese bhel, you've got to change that. For INR 140 a plate, the taste is heavenly, and its a perfect snack to devour on after all the hard-haggling at Hill Road.
Comments