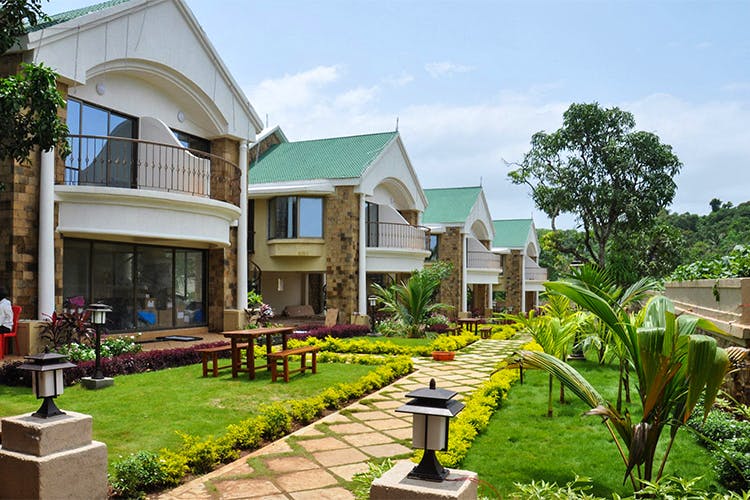 Need A Quick Getaway? Check Out These Resorts That Are Less Than 1 Hour Away
Have you ever wanted to just take off for a break but often end up checking your calendar if you're free? Don't worry, it happens to the most of us, considering you live in the black hole of work – Mumbai. And if you have just a day off, then don't waste it doing nothing- these resorts are less than an hour away from Mumbai and perfect for that tiny, short break.
Palm Beach Resort
Palm Beach Resort, Manori is a quick getaway that, a) won't cost you time, and b) won't burn a massive hole in your pocket. Widely popular for a quick one day trip, it's a pretty beach-side property lined with coconut trees and hammocks.
All your meals (breakfast, lunch, dinner and snacks) activities and stay are sorted for INR 6,400 (for two people) at Palm Beach Resort, Manori – how does that sound? As we mentioned earlier, it's affordable and won't cost you a day, just a few hours.
Domonica Beach Resort
If you're looking for something that won't burn a hole in your pocket, go to Domonica Beach Resort. A BYOB place, you can go here with friends or bae. As recommended here, it's your party-under-the-moon and party-till-the-sun-rises kind of a place, where the management allows you to play music to your heart's content and one can play all kinds of sports.
Manoribel Resort
Hailed as one of the cleaner beaches on the Gorai stretch, Manori is a favourite for its ability to refresh a person within a day/weekend thanks to its clean and quiet environ. Manoribel is one of the most popular resorts to go with your family over a weekend. They also do BBQ on Saturdays, so do inquire when you call them.
Silverador Resort
At Silverador, you can jump into the pool, dabble in table tennis, play volleyball or cricket, or just sit on their massive terrace. The rooms here are priced at INR 3,500 upwards. If you are looking to venture out, the town of Uttan also has a lot to offer – there'll be East Indian culture, food and a lot more to see. You can read our guide to Uttan here.
Sun & Shade
Sun & Shade is a farm resort that will take care of your weekend party plans. With 16 rooms sitting on approximately two acres of lush green farmland, the tariff here at Sun & Shade starts at INR 1,050. Whether you want to chill on a hammock or want to sit by the beach, you can do either at this resort.
Comments