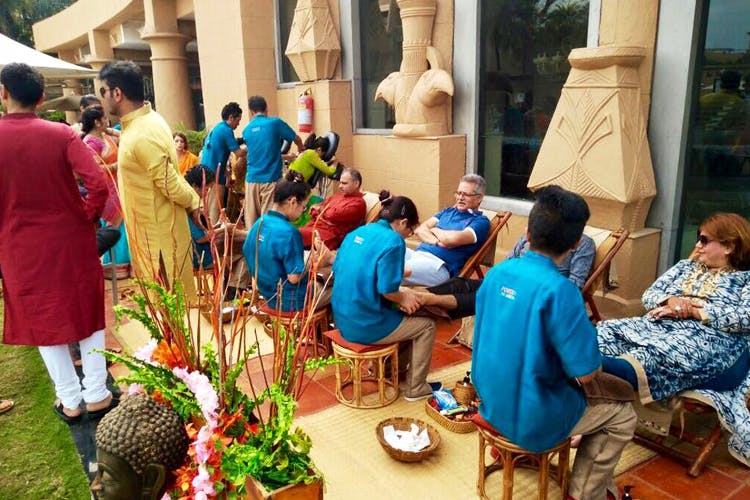 Stress No More: Best Spas In Mumbai To Unwind At After Work
Ten-Second Takeaway
The two best ways to unwind after a stressful work day would either be with a scoop of ice cream or with a spellbinding massage. We would actually give massage the advantage over ice cream, as we cannot imagine anyone who would not like a massage. Built to please one and all, these are the best spas in Mumbai to help you unwind in peace.
Metta Foot Spa, Bandra West
Metta is a foot reflexology institute run by visually impaired experts. Known for its calm ambience and the proficient massage therapists , Metta has been one of the best spas in Mumbai for almost nine years now. On weekdays, a 30-minute foot reflexology sessions costs INR 300, and an hour costs INR 400. The weekend rates are nominally higher, but the acupressure treatments are worth it.
Read more here.
Aura Thai Spa, Multiple Locations
This famous spa chain spread around the country has multiple outlets in Mumbai too. An aroma therapy massage costs INR 2,200. Their membership costs INR 10,000 and gives you 9 hours of aroma therapy at INR 1100, giving you a 50% discount.
Power Spa, Andheri East
Power Spa brings the comfort to your office space. It sets up massage chairs in office areas to create unwinding zones. You can share the cost with your colleagues or better still, have your office organise it. How about having a relaxed meeting?
Read more here.
Areopagus, Goregaon
Areopagus is a luxury Japanese spa, bringing oriental massage techniques to the city. It is a thorough experience of unwinding, where you should go with ample time in hand. Trust us, you will come back refreshed.
Read more here.
The Palms Spa, Colaba
This neat little place pays true attention to detail, and has a wide range of spa services on offer. The Palms Spa is one of the best spas in Mumbai for they focus on the right massaging and spa techniques, and we would go back here any day for their herbal detox massages.
Myrah, Juhu
Myrah in Juhu is one of the most exquisite experiences among the best spas in Mumbai. It offers an option for couples to unwind in a private plunge pool. It is also home to a lot of trained, expert healing practitioners, standing out for the exquisite services on offer.
Tahaa Spa, Nepeansea Road
Tahaa is a relatively small setup, but a really classy one at that. It is very tastefully decorated, has a lot of spa and beauty services on offer, and lets you consult with some of the biggest names in healing therapy in town. The all-round package is what makes it one of the best spas in Mumbai.
Caressaa, Juhu
Caressaa combines new age therapeutic technology with age-old healing principles to give one of the most comprehensive experiences. It is one of the best spas in Mumbai, providing timeless services along with hydrotherapy, sauna and light treatments.
#LBBTip
Also check out Amresa salon and spa, Aura Thai and So Spa in BKC.
Comments